Union Challenges POStPlan, Demands Jobs
The APWU challenged management's "POStPlan" at an arbitration hearing that began on May 1. The union charged that the plan, which resulted in a drastic reduction in the hours of operation at thousands of post offices, also deprives the APWU members of thousands of jobs, in violation of the 2010-2015 Collective Bargaining Agreement.

Testifying at the hearing was Abigail Schmeelk, a member of the Greater Connecticut Area Local, who is the only clerk at the Thompson Post Office. Schmeelk described the work of clerks in small offices that is typical of those affected by the plan.
"The POStPlan violates the clear language of new provisions of the contract," said Director of Industrial Relations Mike Morris. New language in the 2010 contract stipulates that the work in question must be performed by craft employees, he testified. Assistant Clerk Craft Director Lyle Krueth also testified.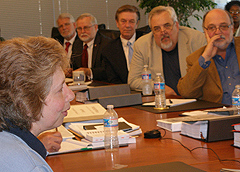 "This is a crucial case that has the potential to create and protect thousands of jobs," Morris said.
Management will present its case at a future date.
For background on the dispute, click here.
Stay in touch with your union
Subscribe to receive important information from your union.