Union Family Comes Together to Assist Affected Members
(This article first appeared in the November-December 2017 issue of the American Postal Worker magazine)
In less than a month, three catastrophic hurricanes made landfall slamming the south (especially Texas and Florida) as well as the U.S. territories Puerto Rico and the Virgin Islands. The storms left devastation and destruction in their wakes. Hundreds of thousands of homes – including hundreds be- longing to APWU members – were significantly damaged or completely destroyed by wide-spread flooding, hurricane-force winds or m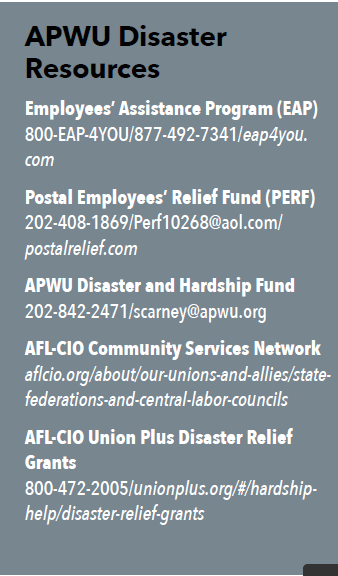 old afterward.
'People Are Getting Desperate'
As this issue goes to press, the situation in Puerto Rico is dire. Puerto Rico Area Local President Juan González-Del Valle said he was only able to reach 30 percent of his members a week after Hurricane Maria ravaged the island. "Lines to markets are a three hour wait. Lines for ATMs are four hours. We have no water or electricity… Power is not expected to be restored for months," he said. "To make things worse, in order to get gas, one has to wait in line from eight hours to two days. In some occasions, you wait in line for hours only to find out that there is no more gas… People are getting desperate."
González-Del Valle thanked "all of our sisters and brothers who were always looking out for us during and after this disaster," including Northeast Regional Coordinator John Dirzius and the Philadelphia Area Local which sent supplies. "From our hearts, I thank all of you," he said.
'Stay Positive'
Members in the Virgin Islands "just started getting back on their feet." Virgin Islands Area Local President Becky B-Simmonds explained that the islands – St. Croix, St. John and St. Thomas – were hit with back-to- back storms.
"St. John and St. Thomas were devastated by Irma and a number of post offices were destroyed. On St. Croix, we were assisting them with relief drives and sending stuff over. Then, we were faced with another hurricane the following week, Ma- ria, which devastated St. Croix," she said. "We could no longer help St. Thomas and St. John."
Some communication lines are still down and people are waiting in long lines for necessities like groceries and gas. "Lots of mail comes through Puerto Rico. If they can't function, we can't either," B-Sim- monds said.
However, she noted that things do get better every day. "You have to stay positive."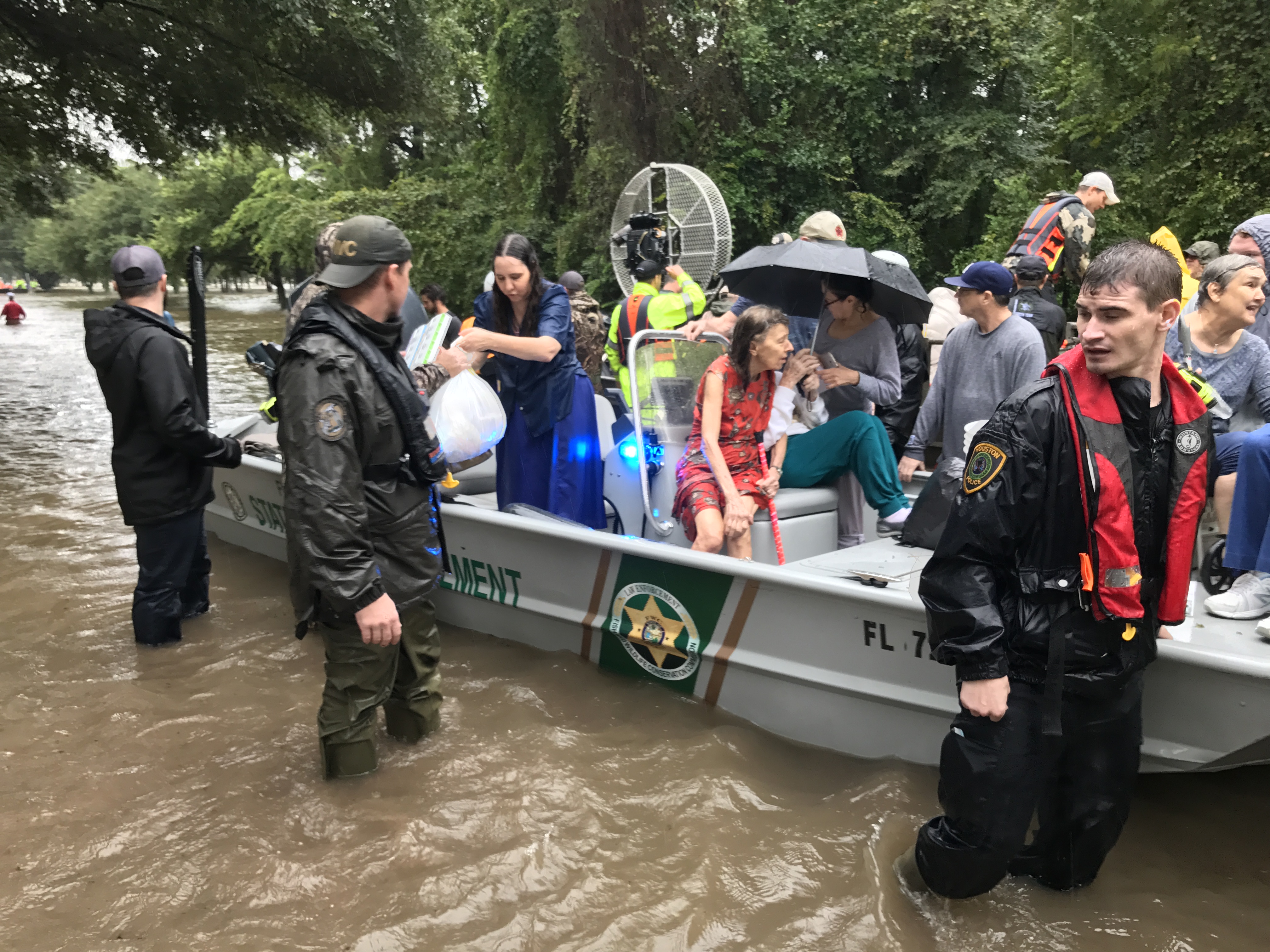 'Kind of Like Zombies' 
"Everybody is kind of like zombies at the moment. We are working regular hours, but still managing to clean up homes…dealing with insurance," said Florida Keys Area Local President Omayra Cruz a week after Irma.
Cruz noted that there was an "issue getting back to work" due to conflicting information provided by local USPS management and the local government. Cruz thanked National Business Agents Pat Davis-Weeks, Robert Bloomer and Michael Sullivan "for going above and beyond," working with local management to resolve problems. They also assisted with getting members back home after the evacuations.
"It gets better every day, but it's a long process," Cruz said, adding that members are now helping with Puerto Rican relief. "It's helpful to have someone looking out for you and helping you from places you don't even know."
USPS Employees Bring Normalcy and Needed Supplies
"Postal workers sort letters and packages with needed funds and items, and also well-wishes from loved ones, into these recovering communities," said President Dimondstein. "For many Americans, the return of the mail service to their homes is part of the healing process. A sense of normalcy returns."
In Puerto Rico, in areas where the post office was damaged or destroyed, tents were set up for employees to sort mail. Carriers took notes of residents' conditions on their routes, and reported to the Federal Emergency Management Agency (FEMA) specific people who were in need of immediate assistance.
In the weeks following Irma, despite dealing with issues at home, Cruz said that "everyone came in early and stayed late to get supplies delivered," such as chain saws and pressure washers. A team of postal employees came down from Miami to help sort parcels. Members were "digging through the mail" to expedite delivery of things like FEMA checks and prescription medications.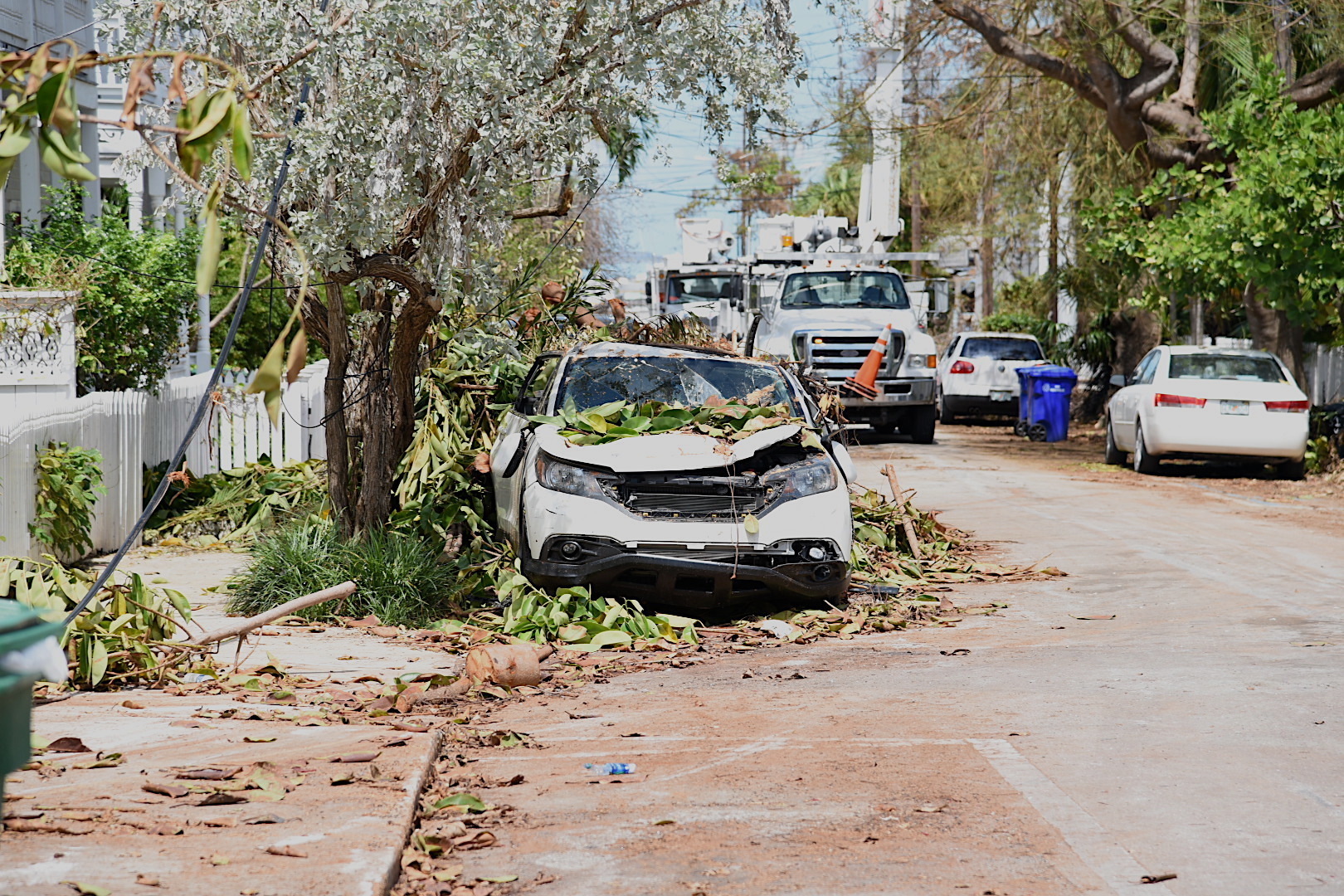 Members Band Together 
Houston Area Local President Alfred Davison reported that at least 30 APWU members lost their homes and dozens more were displaced. However, starting the process to help everyone back on their feet was made easier because of the APWU.
"The National kept me informed and touched base with me ev- ery single day, every step of the way," he recalled. "National of- ficers helped get everybody who was affected together and all thethrough APWU local and state organizations, the APWU Human Relations Department or from an EAP counselor.
In coordination with President Mark Dimondstein, Executive Vice President Debby Szeredy and Secretary-Treasurer Elizabeth "Liz" Powell, Human Relations Director Sue Carney developed a disaster response plan. The plan involved providing assistance to members with the direst needs, coordinating outreach, distributing information and mass documents in order. All I had to do was sign the paperwork. There were several relief forms that they issued to employees that I didn't even know the APWU had."
Members also helped each other fill out relief forms. Gathering in the local office, with guidance from National officers, they assisted one another with the forms, not leaving until everything was finished. "It was a grand effort," Davison said.
As a union family, Houston Area Local sisters and brothers came together and helped each other. One member had all of the cabinets and sheetrock on her first floor destroyed by mold. Local members worked together to remove the damage.
Road to Recovery
To help our members who were uprooted by these deadly storms, the APWU coordinated relief efforts with the Postal Employees Relief Fund (PERF) and the AFL-CIO.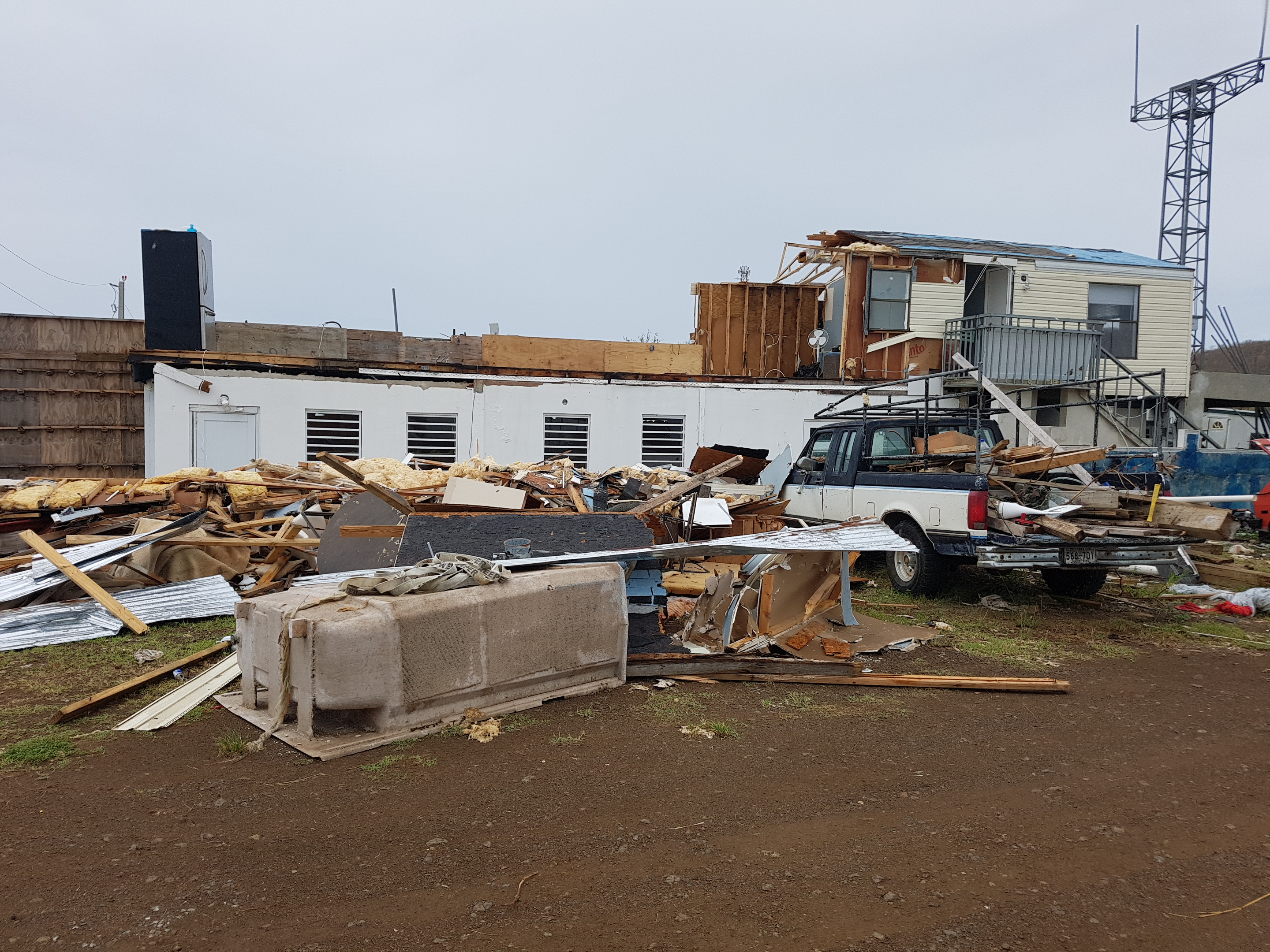 As flood waters receded and roadways became accessible, teams of counselors from the Employee' Assistance Program (EAP) were deployed to provide support to the worst hit areas to meet with members, to refer them to resources and to help them cope with their losses. The EAP staff continues to work with local union leaders on the ground, providing consultations as part of the program's critical incident stress management response. Those efforts will continue in the months ahead. Members in need of assistance should not hesitate to call 800-EAP-4YOU.
PERF's Executive Committee had multiple meetings since the disasters in preparation for the anticipated applications and to discuss extraordinary funding needs. Eligibility criteria and relief grant applications can be downloaded from PERF's website, or obtained through APWU local and state organizations, the APWU Human Relations Department or from an EAP Counselor. 
In coordination with President Mark Dimondstein, Executive Vice President Debby Szeredy and Secretary- Treasurer Elizabeth "Liz" Powell, Human Relations Director Sue Carney developed a disaster response plan. The plan involved providing assistance to members with the direst needs, coordinating outreach, distributing information and mass fundraising efforts. The Human Relations Department, Regional Coordinators, National Business Agents, local and state presidents and their designees continue to play an active role to help bring aid to our members.
It will be a long road to recovery for survivors of these disastrous storms. APWU members, local and state organizations, and retiree chapters are stepping up with their hearts and their wallets. Those affected need all of us to help in their efforts to re-establish their homes, replace necessities and restore their lives, so please keep giving. 
---
Union Family Flies to Puerto Rico
On Oct. 4, the AFL-CIO, the Association of Flight Attendants-CWA (AFA-CWA), the Air Line Pilots Association (ALPA), the International Association of Machinists and Aerospace Workers (IAM), the National Nurses United (NNU) and United Airlines worked together to send more than 300 skilled volunteers to assist the recovery efforts in Puerto Rico for two weeks.
Nurses, doctors, electricians, engineers, carpenters, boilermakers, cement masons, ironworkers, machinists, plumbers/pipefitters and truck drivers, representing over 20 different unions and 17 states, flew to Puerto Rico to help rebuild the lives of our fellow citizens. IBEW members fixed generators and electrical issues. Registered nurses and other health care workers from the NNU gave medical assistance. Teamsters delivered supplies and handled sanitation needs. ALPA members loaded over 35,000 pounds of relief supplies to fly to the island commonwealth.
San Juan Mayor Carmen Yulín Cruz praised the coordinated effort. "Thanks to our union brothers and sisters for hearing, listening to us," she said. "The power of union…Let's get it done."
---
Wildfires in California
As this issue goes to press, fires are raging in California, destroying thousands of homes and displacing as many families. For more information on what you can do to help, go to Wildfires Continue to Burn in CA. The American Postal Worker will report on the fires and their effects on APWU members in the next issue. 
---
An Appeal from APWU President Emeritus William Burrus
"I appeal to the sense of brotherhood and sisterhood that we feel for our coworkers who have lost everything and are in need of assistance," said APWU President Emeritus William Burrus. "During my service as a union representative, I conceived of and initiated the Postal Employees Relief Fund, PERF, to respond to events when the postal community can be called upon to assist those impacted beyond their means of personal recovery."
"The hurricanes, fires and floods have been unprecedented and have left in their wake near total destruction," he continued. "I ask that you think for a minute the effect on you personally if your place of employment was totally destroyed and all of your worldly possessions were lost in a flood or fire."
Burrus urged members to, "make a contribution per pay for a period of one year to the Postal Employees Fund to assist the affected employees… You can direct a payment through a payroll deduction to The Combined Federal Campaign (CFC)… Such a limited contribution when combined with that of other union members can make a big difference."
Editor's Note: The Combined Federal Campaign designation period started Oct. 2, 2017 and goes until Jan. 12, 2018.
Stay in touch with your union
Subscribe to receive important information from your union.