Union Family Flies to Puerto Rico to Assist Relief Efforts
When disaster strikes, workers can be counted on to show up and help out in times of need. When the call came in the wake of the aftermath of Hurricane Maria's devastation, it was no different – our union family stepped up to support our sisters and brothers in Puerto Rico.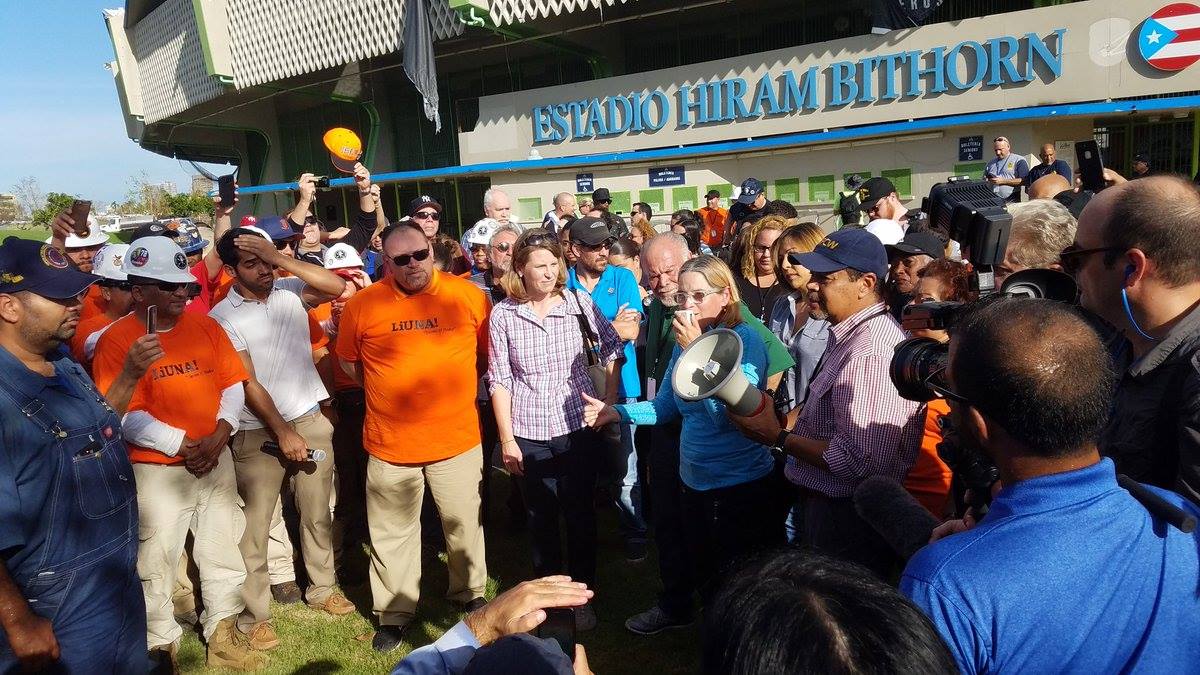 San Juan Mayor Carmen Yulin Cruz thanks all the union volunteers who traveled to help with relief efforts in Puerto Rico.



On Oct. 4, the AFL-CIO, the Association of Flight Attendants-CWA (AFA-CWA), the Air Line Pilots Association (ALPA), the International Association of Machinists and Aerospace Workers (IAM), the National Nurses United (NNU) and United Airlines worked together to fly more than 300 skilled volunteers to assist the recovery efforts in Puerto Rico for two weeks. (Click here for photos.)
Nurses, doctors, electricians, engineers, carpenters, boilermakers, cement masons, ironworkers, machinists, plumbers/pipefitters and truck drivers, representing over 20 different unions and 17 states, flew to Puerto Rico to help rebuild the lives of our fellow citizens. IBEW members fixed generators and electrical issues. Registered nurses and other health care workers from the NNU and AFT gave medical assistance. Teamsters delivered supplies and handled sanitation needs. ALPA members loaded over 35,000 pounds of relief supplies to fly to the island commonwealth.
San Juan Mayor Carmen Yulin Cruz praised the coordinated effort. "Thanks to our union brothers and sisters for hearing, listening to us," she said. "The power of union…Let's get it done."
Assistance Still Needed
Puerto Ricans are still facing food and fuel shortages, and power and communications are still down in many parts of the island. It is a humanitarian crisis. Federal assistance has not come soon enough, requiring average workers to join this multi-union aid mission.
"The working families of Puerto Rico are our brothers and sisters. And this incredible partnership will bring skilled workers to the front lines to deliver supplies, care for victims and rebuild Puerto Rico," said AFL-CIO President Richard Trumka. "Our movement is at its best when we work together during times of great need.
"This endeavor is entirely about working people helping working people in every way possible," he continued. "In times of great tragedy, our country comes together, and we are committed to doing our part to assist the people of Puerto Rico."
To help support relief efforts in Puerto Rico and the U.S. Virgin Islands:
AFL-CIO Union Community Fund send checks payable to:

THE UNION COMMUNITY FUND
ATTN: ACCOUNTING DEPARTMENT
815 16TH ST., NW
WASHINGTON, DC 20006
 

Postal workers can donate to the Postal Employees' Relief Fund (PERF).
APWU members in need are encouraged to take advantage of the available resources. Contact the APWU Human Relations Department by calling (202) 842-4270 or emailing scarney@apwu.org for additional questions.
Union workers impacted by the Hurricane may also qualify for a Union Plus Disaster Relief Grant , and other financial assistance.
Stay in touch with your union
Subscribe to receive important information from your union.