Vote in the APWU Election of National Officers
(This article first appeared in the September/October 2019 issue of the American Postal Worker magazine) 
Ballots for the American Postal Workers Union's 2019 election of national officers will be mailed to all eligible APWU members Sept. 10-15. The ballots must be returned to and received in the designated post office box by 2 p.m. (EDT) on Monday, Oct. 7. To be eligible to vote, a member must be in "good standing" according to the official records of the national union on June 21 of the election year. Direct election of union officers has been a hallmark of the APWU's democratic tradition.
Exercising the right to vote is a simple matter of marking the ballot – which will be mailed to your home – and returning the completed ballot in a postage-paid envelope. Please take part in the process by filling out and mailing in your ballot as soon as you receive it. And please encourage others at your worksite to exercise their rights as well.
No Ballot?
Members who have not received a ballot by Sept. 19 are asked to notify their local or contact the American Arbitration Association between the hours of 9 a.m. and 5 p.m. (EDT), Monday through Friday, at 800-529-5218, to request a duplicate. Duplicate ballots also may be requested by visiting www.aaaelections.org/apwu. To receive a duplicate, members must provide their name, address, employee ID number and the last four digits of their Social Security number, along with the name of their local and their craft.
The Election Committee will take custody of the ballots on Monday, Oct. 7, and transport them to the Embassy Suites by Hilton Washington DC Convention Center, 900 10th St. NW, Washington DC 20001, where they will be counted.
As soon as they become available, unofficial election results will be posted at www.apwu.org.
---
PPA Biennial Conference Held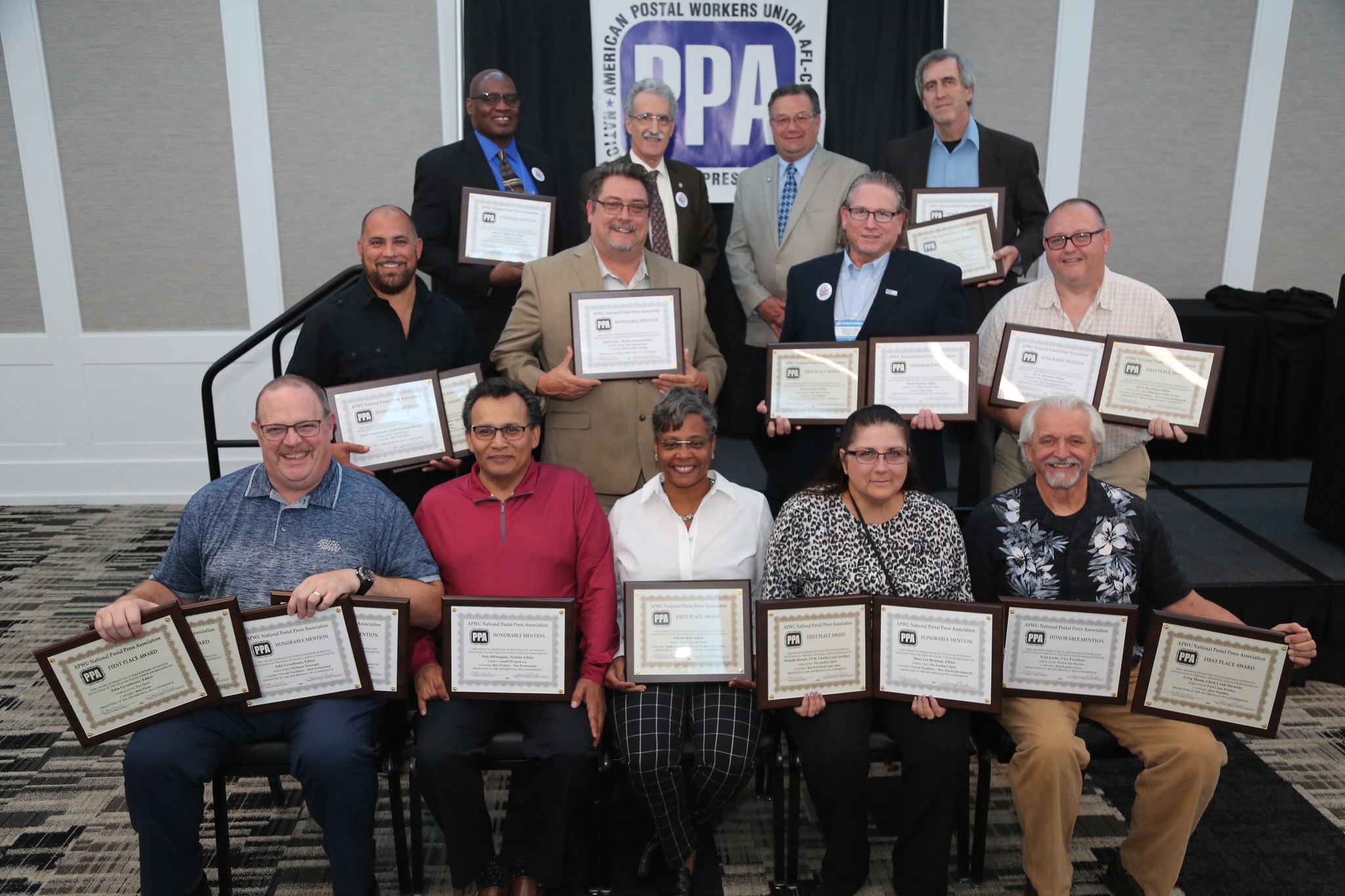 From Aug. 1-3, the APWU National Postal Press Association (PPA) held its 2019 Biennial Conference in Altoona, Iowa, with a preconference session on July 31. The event was attended by editors; associate editors; and local, state, national and auxiliary officers.
The biennial event offered both new and experienced participants the opportunity to learn, exchange ideas and discuss various strategies for improving communication.
All instructors came from within the ranks of organized labor.
The four day gathering included twelve communication and union building workshops along with three general sessions. Workshop subjects included: how to get started; legal responsibilities; communications for member involvement and union building; digital media; publication design; writing and editing; websites; photojournalism; and labor history.
Recognizing the importance of external communication and outreach, the conference included workshops on public speaking, working with the mainstream media and social justice unionism. Two general sessions provided attendees with information about the APWU's Anti-Postal Privatization Campaign: US Mail: Not for Sale, and how to influence public support through opinion-editorials and letters to the editor.
Additionally, President Mark Dimondstein fielded questions from attendees on a variety of subjects at a press conference, continuing a practice established in 1967.
PPA officers for the 2019-2021 term are: Tony Carobine, President; Edward Brennan, Secretary-Treasurer; and Advisors Jenny Gust, Cathy Hanson, Diane North and Terry Danek.
Proudly displaying awards at the August 3 awards banquet during the 2019 Biennial Conference of the APWU National Postal Press Association (PPA) in Altoona, IA are (seated left to right) John Greathouse, editor, Michigan Messenger and The Pacer, Lansing, Michigan; Carlos Barrios, editor, SanAntonio Alamo Area Local Dispatch, San Antonio, Texas; Jolanda Bell, editor, Voice & Views, Jacksonville, Florida; Michelle Hewett, editor, The Auxiliary Spirit, Saint Charles, Missouri; Steve Beyersdoerfer, editor, First Class Worker, Cincinnati, Ohio; (second row left to right) John Miceli, editor, The Hi-Lites, Milwaukee, Wisconsin; Roscoe Woods, associate editor, The Communicator,
Ferndale, Michigan; Mark Sarcone, editor, DMI News & Views, Des Moines, Iowa; Drew Stevenson, editor, The Philadelphia Postal Worker, Philadelphia, Pennsylvania (third row left to right) James Parker Jr., editor, The Rank & Filer, Raleigh, North Carolina; President Mark Dimondstein, PPA President Tony Carobine, Robert Dyer Jr., editor, Evergreen State Postal Worker, Mountlake Terrace, Washington.
 
Stay in touch with your union
Subscribe to receive important information from your union.