We Have a New Union Contract!
(This article first appeared in the July-August 2016 issue of The American Postal Worker Magazine)
The big news is in - 200,000 postal workers represented by the APWU have a new union contract!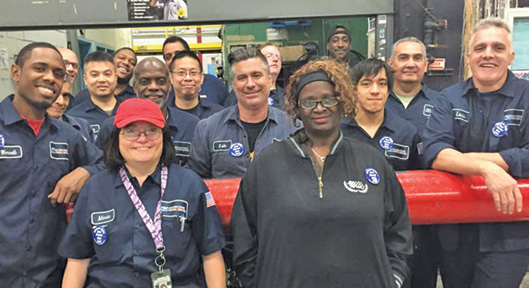 With the issuance of the "interest arbitration" award on July 8, we have gained many positive results in these difficult times. (See the pages following this article for summary and highlights.)
We refused, with your support and the guidance of the 2014 National Convention, to engage in another round of concessionary bargaining. As the union's lead negotiator with the Postal Service, I defined our major goals in negotiations as: 
1. Stop the downward spiral in wages and benefits; 2. Achieve a fair and decent wage increase for all postal workers; 3. Protect the COLA and no-lay-off protections for career employees; 4. Redefine the definition of "full-time" work to 40 hours a week; 5. End the divisive three-tier wage system; 6. Strive towards an all-career workforce; 7. Uplift the wages and benefits of PSEs; 8. Address the dangers of accelerating sub-contracting; 9. Enhance and expand postal services.
We were unable to reach a voluntary agreement that met our goals. Management forced us into "interest arbitration" with their insulting demands for another lower-paid tier of career workers, their attack on our COLA and no lay-off protections, and their insistence on increasing the percentages of non-career employees.
Interest arbitration is a risky process. Our future condition of employment is placed into the hands of a panel of three arbitrators. However, since one arbitrator represents the APWU and one represents the Postal Service, the decision really comes down to the one "neutral" arbitrator who weighs the "interests" of the two parties – workers and management. And those interests are obviously very different – with management trying to reduce wages and benefits and expand their "flexibility," and the union fighting for the best of wages and benefits and improved working conditions.
For those who have gotten somewhat impatient over this long and difficult process, the truth is, we could have settled for a new contract last year. But it would not have been an agreement acceptable or fair to you, the member.
Based on the good work of many, the APWU presented a strong and creative case to the arbitration panel.
We, as a union, should be generally proud of the results. We made some real progress on most of our major goals. We gained an all-career workforce in the Maintenance and Motor Vehicle crafts. We secured real general wage increases and defended our COLA and no lay-off protections. We strengthened conversion opportunities for PSEs and improved PSE wages and benefits. We achieved some positive limitations on sub-contracting (particularly in relation to MVS) and on plant closings and consolidations. We laid the basis for better protecting retail services and for expanding postal services. And we successfully fought back the main concessionary demands of postal management.
In the arbitration process, we were unable to totally fend-off management demands that employees pay an increased share of health insurance premiums, nor did we succeed in bridging the separate and divisive wage tiers. What we were not successful in achieving this time, we now have a good foundation to build on in the next round of collective bargaining.
Contract Campaign
Union leaders, activists and members played a crucial role in setting the stage for these positive results in negotiations by embracing the nationwide Contract Campaign. Management is more responsive when we are active and united. Many of you set up Contract Action Teams. You talked to and educated co-workers and the public. You encouraged co-workers to wear buttons, stickers and union gear. Hundreds of thousands of "I Stand with Postal Workers" postcards were signed and mailed to the PMG. You built unity and enthusiasm, helping to gain good tentative agreements, many of which were incorporated into the arbitration award. And you built solidarity and unity that will carry over to strengthen our everyday battles for workplace justice.
Some Perspectives
1. One great attribute of being organized into a union is the ability to force the company into collective bargaining and arbitration, thus winning a say over our wages, hours and working conditions. Where no unions exist, the bosses have the open door policy for their workers – take it or leave it – and if you don't like the conditions of employment, see your way out the open door.
But with a union, management must negotiate and workers can use their organization and determination to make a better life for ourselves, families, co-workers and communities.
2. We would be much stronger in future negotiations if all postal workers were united in one big postal union. Divided into four separate unions, while we face one powerful company, allows management to play one union against the other. This weakness of divided unions hurts all of us at the bargaining table and it was reflected in the Arbitrator's award.
3. Negotiations reflect the power relationship between the managers and the workers. The more power we build, the more unity we have, the stronger the union movement in general, the higher the standards for all workers -- the better we will do at the negotiating table. So as we go forward and prepare for the next round of bargaining, worker solidarity is vital.
Great Appreciation
There were countless hours of invisible work in preparation, negotiations, mediation and interest arbitration. I do want to thank all those involved in the battle for "Good Service, Good Jobs, Good Contract" – from my brother and sister national officers on the negotiating committee (and those officers and staff who assisted the negotiating team), the attorneys and economists, the witnesses who testified (especially the postal workers who came forward), the secretaries and staff who provided critical administrative support, the many labor and community allies who stood tall with postal workers in the fight for justice, and especially all of you, the dedicated dues-paying members who are the foundation of our union.
We have made some important gains. We have turned some corners. We are heading in a better direction. And the struggle for workplace justice continues!! Carry On and Solidarity Forever! 
---
The Support Services members at the Information Technology and Accounting Services (IT/AS) Unit recently overwhelmingly approved a one-year extension of their separate union contract!
Stay in touch with your union
Subscribe to receive important information from your union.