Workers Memorial Day is April 28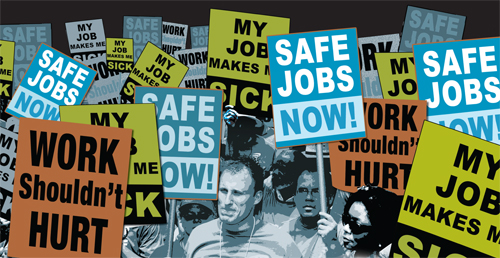 The labor movement will observe Workers Memorial Day on Thursday, April 28, to commemorate those who have been killed or injured on the job and to revitalize the fight for workplace safety. The event coincides with the anniversary of the passage of the Occupational Safety and Health Act (OSHA), which promises every worker the right to safe working conditions. 
Each year, thousands of workers die and millions more are injured or sickened from dangerous conditions on the job. Many employers routinely cut corners and violate the law. Workers who report hazards and injuries are often fired or disciplined. 
Unfortunately, the Postal Service is no exception. In fiscal year 2015, 18 postal workers lost their lives on the job and 42,000 were injured. 
Last year, the APWU launched the Stand Up for Safe Jobs campaign, encouraging workers to be aware of the many dangers on the job, and to get actively involved with their co-workers to fight for safe working conditions. The need is clear:
Over a 10-month period, four postal workers employed at Michigan's Metroplex Processing and Distribution Center died. They fell ill at work, were taken away by Emergency Services, and later passed away.  The Office of Inspector General concluded that a methane detection system at the facility had not been functioning properly, but did not correlate it to the deaths. APWU's 480-481 Area Local is demanding an investigation. 
In New Jersey, an APWU member was fatally struck by a van as she walked through the employee parking lot to the Dominick V. Daniels Processing and Distribution Center on March 23. The local had requested speed bumps, stop signs and posted speed limits prior to the accident, but the requests were ignored. The New York Metro Area Local is demanding action and accountability.
On Aug. 28, a three-alarm fire was reported at the BMC in North Oak Cliff, near Dallas, TX. All 115 workers were evacuated from the building safely, but one firefighter was taken to the hospital. 
The air conditioning unit at the Bronx General Post Office was tainted with the bacteria that causes Legionnaires' disease last summer, but management failed to notify employees for several days.  Fortunately, no workers were sickened. 
"Workers Memorial Day is a great time to renew the fight for safety at work. Management won't do it for us. We must do it for ourselves," Dimondstein said. 
For info about events in your area, visit actionnetwork.org/event_campaigns/workers-memorial-day-2016.
---
Training Guide
A training guide for the APWU's ongoing Stand Up for Safe Jobs campaign is available for use by locals and state organizations. The guide, which was developed by President Mark Dimondstein, is intended to promote active involvement by participants at multi-state conferences and state conventions. The guide reviews educational material and emphasizes steps union members can take to promote a safe work environment. It is designed to allow instructors and participants to share their experiences and discuss what steps are appropriate for their conditions.
"The best safety program is workers standing together in defense of a safe working environment," Dimondstein said. "The goal of this training guide is to begin that process."
Stay in touch with your union
Subscribe to receive important information from your union.