Contract Teleconference Addresses Common Questions
APWU President Mark Dimondstein and other members of the union's negotiating team answered questions posed by union members during two Town Hall teleconferences on July 21. More 1,000 people participated in the calls, which lasted approximately 45 minutes.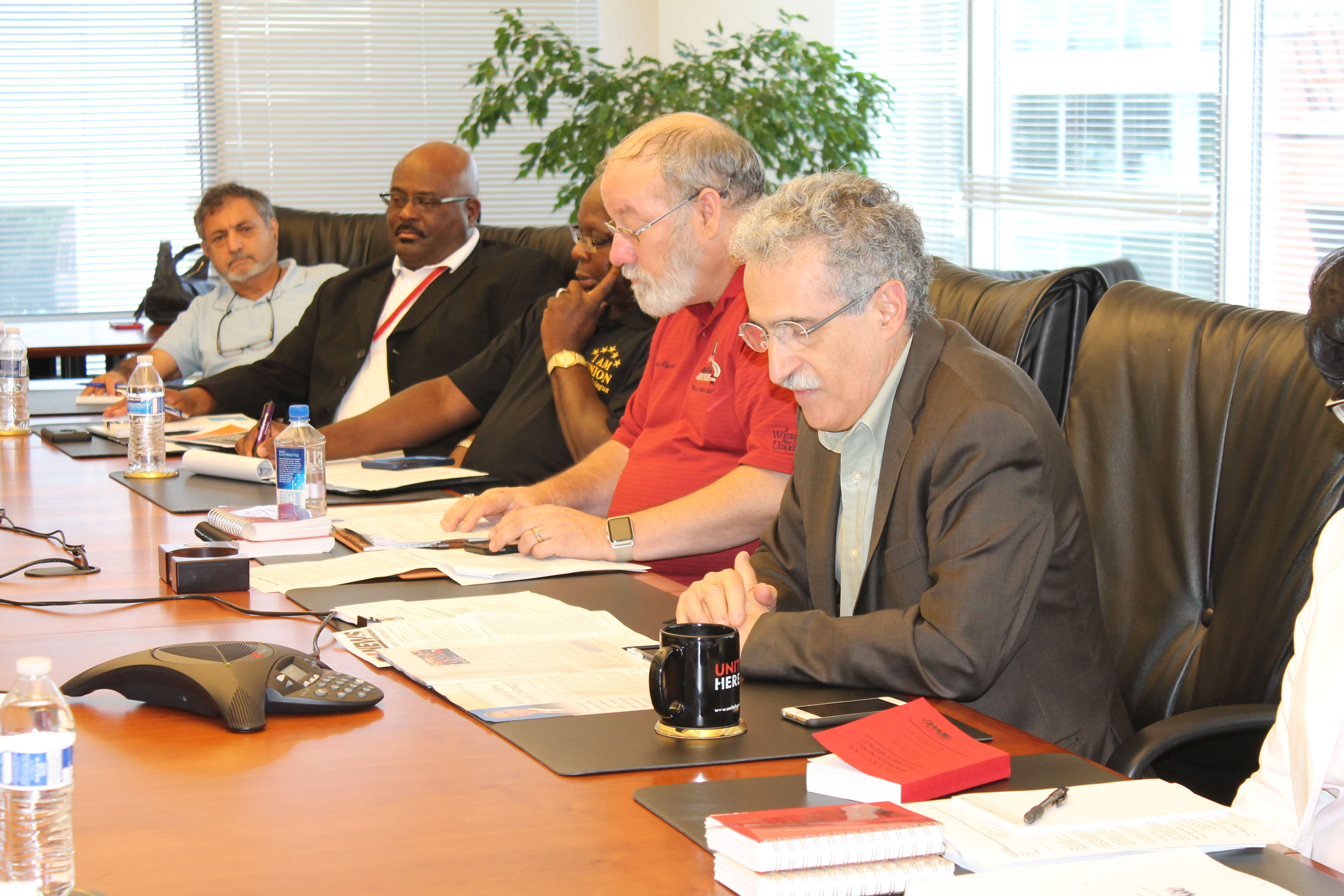 Among the most common questions about the new contract were inquiries about what Part-Time Flexible (PTF) employees gained, the conversion of Postal Support Employees (PSEs) to career, early outs, when the retroactive pay will be dispersed, and when the new pay scale will take effect. (According to information provided by the Postal Service, management will implement the new pay rates on Aug. 6; retroactive pay is expected Nov. 4.)
Prior to addressing the questions, Dimondstein reviewed the highlights of the new 40-month Collective Bargaining Agreement. "We made some real progress on most of our major goals," he said. Among the most important items, the APWU:
Gained an all-career workforce in the Maintenance and Motor Vehicle Crafts.
Secured wage increases.
Protected our cost-of-living adjustments (COLAs).
Defended and enhanced our no-layoff protections.
Improved wages and benefits for Postal Support Employees (PSEs).
Achieved limits on subcontracting, especially in the Motor Vehicle Craft.
Won a moratorium on plant closings and consolidations.
Secured a moratorium on retail subcontracting.
Laid the basis to better protect retail services and to expand postal services in the future.
"We should judge this contract not just by what we gained, but by what we stopped," Dimondstein said, noting that management fought hard to do away with our COLAs and no-layoff clause. The Postal Service also wanted to increase the number of non-career workers and establish a new fourth tier within the workforce that would give future career employees lower pay and fewer benefits.
The union was unable to totally fend off management demands, Dimondstein reported, pointing out that employees will have to pay 1 percent more toward the cost of health insurance premiums.
In addition, the union also wasn't able to achieve gains in all areas. "We weren't able to bridge the gap between the higher-paid career tier and the lower-paid career tier. That's something we will be facing in the next round of bargaining," he said. "We believe where we were not successful this time, we built a good foundation for the next round of collective bargaining."
Before answering questions Dimondstein offered a heartfelt salute to APWU members for the important role they played. For some, it was simply a matter of paying dues so that we could have a union. Others were more active – they stepped up and stood tall as part of a National Contract Campaign, spreading our message; wearing union buttons, T-shirts and stickers; getting postcards signed, and participating in rallies. "Management is far more responsive when we are active, and we are together," Dimondstein pointed out.
Now, to the most common questions:
PTFs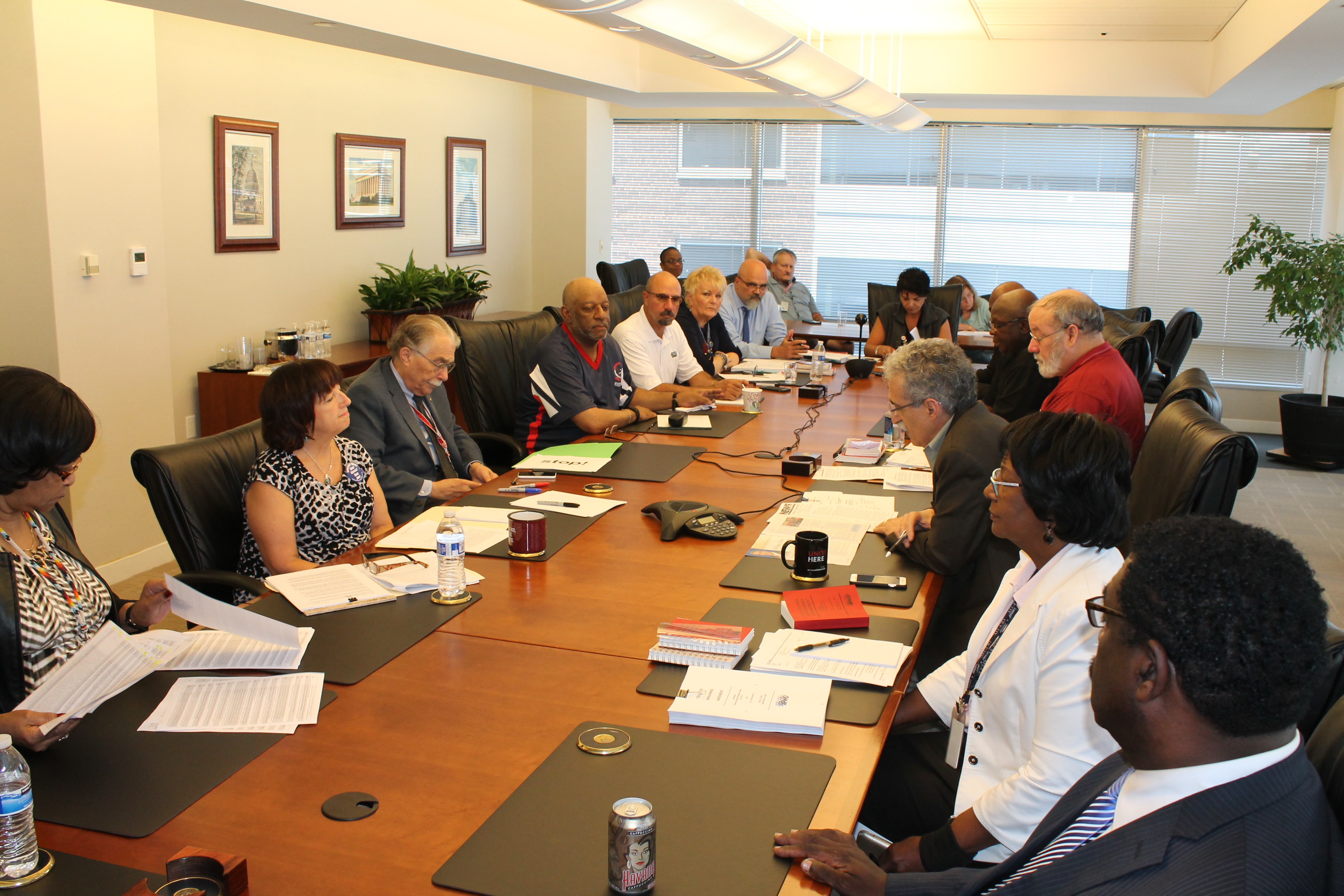 Question:    Why didn't Part-Time Flexibles get anything in the new contract?
Answer:       They did! As career employees, Part-Time Flexibles won all the benefits Full-Time and Part-Time Regulars won.
PTFs will receive three pay increases over the life of the contract.
Eligible PTFs will receive three increases in uniform allowances over the life of the contract.
PTFs retained COLAs, which management tried desperately to eliminate.
PTFs retained protection against layoff after six continuous years of service, which management also sought to eliminate.
PTFs who were on the rolls as of July 8, 2016, but haven't achieved six continuous years of service won protection against layoff for the life of the contract.
The moratorium on subcontracting retail operations will help protect PTF work hours.
The 50-mile limit on excessing applies to PTFs.
If successful, the Task Force on Enhanced and Expanded Services will strengthen job security for all employees, including PTFs.
Question:    Why will PSEs – but not PTFs – get holiday pay?
Answer:       PTFs do get holiday pay! For PTFs, the pay for 10 holidays is distributed over the course of the year and added to their hourly rate. That's why, for example, a Level 6 Step O Part-Time Flexible Clerk earns $1.10 more per hour ($28.74) than a Level 6, Step O Full-Time Regular ($27.63) employee earns. Under the terms of the new contract, PSEs will get paid for six holidays.
PSE Conversions
Under the terms of the arbitrator's ruling, all Maintenance Craft PSEs and Motor Vehicle Service Craft PSEs will be converted to career within 60 days of July 8, the date the arbitrator's ruling was issued. The union has been informed by management that the conversions will take place on Sept. 3, 2016.
There will be a one-time conversion of Clerk Craft PSEs who had over 2.5 years of service in the same 200-work-year installation as of July 8 – prompting one of the most common questions:
Question:    What is a 200-work-year installation?
Answer:       If the annual total paid hours of all Clerks, Maintenance Craft employees, Motor Vehicle Service Craft employees, Mail Handlers and Letter Carriers when divided by 2,080 equals 200 or more, the installation qualifies as a 200-work-year installation.
                        The Postal Service will provide a list of offices that qualify, along with supporting data. The APWU has 30 days to verify the information. As soon as the list is finalized, it will be posted on apwu.org.
Question:    Will automatic conversions of Clerk Craft employees after 2.5 years continue through the life of the contract?
Answer:       No, the conversion is a one-time event. However, the arbitrator's ruling instructs the union and management to meet after one year to see if there are additional opportunities for conversion.
                        The one-time conversion supplements other conversion opportunities in the contract, including when filling residual vacancies. 
Question:    What position will Maintenance Craft PSEs be converted into? What will they be paid?
Answer:       In the Maintenance Craft, all PSEs are custodians. They will be converted "in place," performing the duties they were performing prior to conversion.
Question:    How will conversion of PSEs take place in the Motor Vehicle Service (MVS) Craft?
Answer:       In MVS, PSEs will be converted into Full-Time Regular or Part-Time Flexible positions based on their standing on the rolls, with the first opportunity for FTR assignments given to those who are highest on the roster. 
Question:    Will converted PSEs have to serve a probationary period?
Answer:       Under the terms of the new contract, PSEs in all crafts who have served one full term will not have to serve a probationary period.
Pay
Question:    Will a cost-of-living adjustment (COLA) apply to the retroactive pay?
Answer:       Technically, yes. However, because inflation has been low, the Consumer Price Index hasn't increased enough to generate an adjustment for the period in question. The next COLA is due in September and will be announced on Aug. 17. The union expects a small increase.
Question:    Will people who retired after Nov. 14, 2015, receive retroactive pay for the period they worked?
Answer:       Yes.
Stop Staples!
Question:    Will the Stop Staples campaign continue?
Answer:       Absolutely! Among the most important victories in the new contract is a one-year moratorium on new retail subcontracting. The Postal Service is prohibited from expanding contract stations, Village Post Offices and Approved Shipper Programs – programs that threaten postal jobs, compromise service to the people, and hasten privatization. The fight over Staples is not affected by the moratorium, so the Don't Buy Staples movement will keep going strong!
Early Out
Question:    Will there be an early-out?
Answer:       Management can only offer Voluntary Early Retirement (i.e. to workers who aren't eligible for retirement) with approval of the Office of Personnel Management (OPM). OPM will only approve such a request when an agency needs to downsize, and the Postal Service has been hiring.
                        If management wishes to incentivize eligible employees to retire by offering bonuses, the Postal Service would have to negotiate with the union. Management hasn't expressed any interest in negotiating early-outs.
Copies of the Contract
Question:    When will we get to see the new contract?
Answer:       The contract is posted on apwu.org. In addition, a copy will be mailed to active-duty union members in approximately six weeks.
Local Negotiations
Question:    When will local negotiations take place?
Answer:       Written notice of intent to negotiate must be provided not later than Sept. 22, 2016. Negotiations occur for 30 consecutive days within a 60-day period, commencing on Sept. 8, 2016, and ending Nov. 7, 2016. Click here for more info.
Many More
During the teleconferences, the negotiating team addressed the questions that were submitted most frequently when union members registered for the calls. Many other questions were submitted as well; officers are responding to the additional questions individually.
Stay in touch with your union
Subscribe to receive important information from your union.