e-WHEP Staffing: Coming to a BMC Near You!
(This article was first published in the January-March 2011 issue of The American Postal Worker magazine.)
Steve Raymer, Maintenance Division Director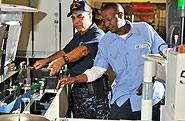 Last year, the Postal Service tried to pull a slick maneuver on Maintenance Craft employees at Bulk Mail Centers (BMCs) by improperly changing staffing models – and implementing a new program before notifying the union of any change.
In April 2010, management provided the APWU with a draft Maintenance Management Order (MMO), which proposed new rules for determining the number of Maintenance Craft employees needed at BMCs (also known as Network Distribution Centers, or NDCs). The order said, "The purpose of this MMO is to provide interim guidance for completing staffing estimates for Network Distribution Centers (NDCs) using the electronic Workhour Estimator Program."
But the electronic Workhour Estimator Program (e-WHEP) was specifically designed to establish mechanized staffing levels at Processing and Distribution Centers (P&DCs). According to MMO-074-00, which the USPS issued Oct. 10, 2000, when the program was rolled out, e-WHEP was developed to determine the number of Maintenance Craft positions (such as Electronic Technicians, Mechanics, Maintenance Control Clerks; Building Equipment Mechanics, and other mechanized positions) needed to staff a mail processing plant based on identified automated equipment, postal machinery, building equipment, as well as maintenance operations. When issued, the scope of the e- WHEP stated it was "not intended for use in the Bulk Mail Centers."
Since 2004, staffing at BMCs has been established by a program known as BMC Gold, which was expressly created for the BMC environment, in recognition of the fact that the equipment in these facilities is as different as night and day from the automated equipment in plants. The Postal Service announced the program via MMO 022-04, which evolved from the interim BMC guidelines that were issued in 1979.
Making matters worse, while the APWU and USPS were conducting initial discussions about the proposed MMO and what effect, if any, it would have on current BMC staffing, the union learned that managers in the field were already using e-WHEP to staff some BMCs. In fact, they had been using it as early as six months before the first meeting between the union and management.
According to national-level postal officials, the use of e-WHEP in a BMC should not lead to any reduction in mechanized staffing; they say it is designed to be a data-to-data conversion, simply moving work-hours from the BMC Gold program to e-WHEP.
But union investigation revealed otherwise. The Denver NDC, Springfield NDC, Philadelphia NDC, and St. Louis NDC are already facing possible staffing reductions based on the improper use of e-WHEP in staffing BMCs.
The union has already filed a national-level grievance challenging the conversion; in addition, we encourage each BMC office to file a grievance on any improper use of e-WHEP in a facility. Please share any information regarding local management staffing efforts, particularly comparisons of staffing results under the various programs, with your national Maintenance Craft officers at headquarters.
All-Craft Conference
It is time for locals and interested members to begin preparing for the 2011 All-Craft Conference, which will be held Oct. 11-13 in Las Vegas. (Delegates should plan to arrive on Oct. 10.)
This nationally-sponsored event, which takes place in years when no National Convention is scheduled, gives local representatives from the Maintenance, Clerk, Motor Vehicle, and Support Services crafts the opportunity to gather for craft-specific training, general sessions, and discussions.
The Maintenance Craft general session and business meeting will be held on Oct. 11, with national training set for Oct. 12 and 13. A schedule of events, including the specific classes offered, will be posted on the Calendar of Events pages at www.apwu.org in the coming months. Registration for the conference also will be conducted online, and handled by the Secretary-Treasurer's Department. For more information, or to register online, please visit the APWU Web site.
On behalf of all the Maintenance Craft officers, we look forward to productive, informative sessions at this year's conference as we have had in the past, and we look forward to seeing all of the participants.
New Faces
The Maintenance Division Council is pleased to recognize the addition of two new National Business Agents:
Dean Hathaway assumes the position of Central Region NBA 'B,' a position that was vacated by the retirement of former officer Don Foley. 
John Gearhard was elected to the position of Southern Region NBA 'A,' a position previously held by Charlie Robbins, who also retired at the end of his term in November.
There is no doubt that these two fine union leaders will continue the outstanding representation of the Maintenance Craft members that was established by their predecessors. On behalf of the entire Maintenance Craft, we offer congratulations to these new officers and look forward to working together.
Stay in touch with your union
Subscribe to receive important information from your union.