Fighting for our Sick Leave Benefits
(This article first appeared in the May/June 2019 issue of the American Postal Worker magazine) 
I believe that many postal employees take for granted the benefits they are afforded through the efforts of their union. Postal employees have the ability to earn a significant amount of annual leave over periods of time. These rates are as good, if not better than you may receive in private industry.
While earned vacation time may be comparable, in some respects, to other employers, our sick leave – a benefit bargained for by the union – tends to be much better than what other companies offer. Postal employees can earn 104 hours of paid sick leave per year, to be used for medical purposes. Sick leave is accrued in addition to annual leave, and can be carried over from year to year with no limitations.
In September of 2015, President Obama signed Executive Order (EO) 13706, Establishing Paid Sick Leave for Federal Contractors. The EO requires certain parties that contract with the Federal Government to provide employees with up to seven days of paid sick leave annually, including paid leave for family care. The EO became effective September 30, 2016.
Under the EO, a contractor must permit an employee to earn not less than 1 hour of paid sick leave for every 30 hours worked, up to a maximum of 56 hours of leave. In other words, if the employee carries over 40 hours from one year to the next, the company has the right to only credit the employee with an additional 16 hours for the upcoming year. Not a true carry-over of hours, right? In addition, the EO states that vacation leave can count as hours given to an employee for medical purposes so there is no separate category of leave designated as "sick leave."
The addition of what the EO called "sick leave" looked like a great thing for our private sector APWU-represented mail haulers. However, in their collective bargaining agreements, there is no provision for paid leave specific to "sick leave." In fact, we have tried to introduce it to no avail. Now we would be able to negotiate separate sick leave into their contracts because it was an EO signed by the President of the United States of America. Now, three years after President Obama signed the EO, Michigan has passed a "Paid Medical Leave Act" through legislation. Many articles have been published in newspapers and on labor employment websites calling this law the "Mandatory Paid Sick Leave", and "Michigan's New Sick Leave Law". This is a great law that will help those who do not currently have paid time off in their employment.
We are heading into interest arbitration with the Postal Service over terms of the APWU/USPS Collective Bargaining Agreement, and everything that we have previously achieved through the bargaining process is now subject to attack. The USPS could attempt to reduce or eliminate the "true" sick leave accrual benefit that we have enjoyed as union-represented Postal Service employees. The union will fight to retain those hard-won benefits. I fully appreciate the efforts that go into retaining the rights and benefits that we have fought so hard for.
---
El Paso Drivers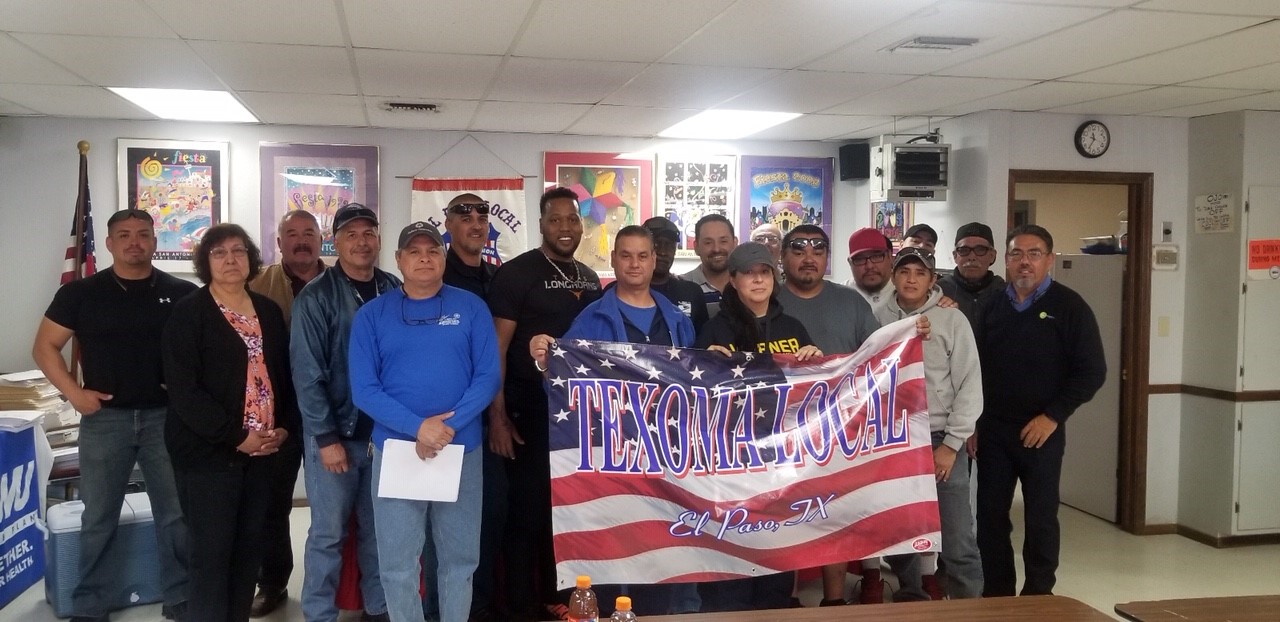 In April, drivers from the newly unionized Salmon Company in El Paso, TX unanimously ratified the terms of their first Collective Bargaining Agreement. These APWU new members received most of the terms of the negotiated Salmon contract for the Dallas Area Local.
Due to the organizing efforts and continued support of Texoma Local representatives Sonny Castleman and Michael Robinson, the members now have bargaining rights and proper representation. These members are happy to now deal with the company on an even playing field. 100 percent of the membership voted to ratify the terms.
Stay in touch with your union
Subscribe to receive important information from your union.