(This article first appeared in the May-June 2018 issue of The American Postal Worker magazine) 
Feb. 18, 2018
Dear Editor Mark Dimondstein,
My name is Susan Nichols and I am sending you this [letter and photograph below] on behalf of the group of Laborer/Custodians to whom it refers. We would urge you to print this because 1) it underscores the power and importance of the Union, and 2) in recognition of the enormous effort put forth in this case to win back these jobs. It was a long and labor-intensive process on the part of, particularly, Maintenance Craft Director Erik Bojarski. He, and President Frank Resetarits, truly changed our lives for so much the better. They deserve a recognition – as does the Union.
Sincerely,
Susan J. Nichols
---
Dear Editor Mark Dimondstein,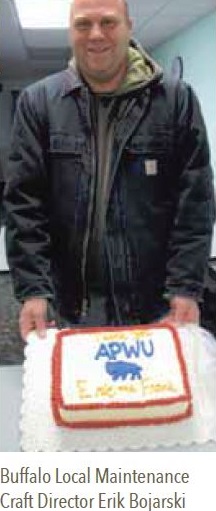 I sure hope you can find room to print this material because it's all about the most important thing – jobs. Hard-won union jobs.
In 2015 I was hired, along with a number of others, as a PSE Laborer/Custodian at the Buffalo P and DC. In 2016, our jobs were suddenly terminated. We all left jobless and very disappointed – pretty certain the jobs were gone for good. The local APWU Union President Frank Resetarits reassured us that the Union would be working to get our jobs back, believing we were wrongfully let go.
In 2017, our jobs were RESTORED! Furthermore, we were brought back as career employees. This was a life-changing situation for the lot of us. For the months and months we were gone, the Union was hard at work. Due largely to the diligent and determined effort of Maintenance Craft Director Erik Bojarski, as well as Local President Frank Resetarits, we were all brought back. Jobs restored. And that's what a Union is all about, isn't it? JOBS.
Recently, we celebrated the one year anniversary of our return to work with much gratitude – and cake! Thank you APWU, and especially Erik and Frank, for our Union-won jobs.
The grateful Laborer/Custodians 
Buffalo P and DC
Stay in touch with your union
Subscribe to receive important information from your union.