Retirees Educational Conference
(This article first appeared in the January-February 2016 issue of The American Postal Worker magazine.)
Over 200 retirees attended the National Retirees Educational Conference, held in Las Vegas Oct. 12-14.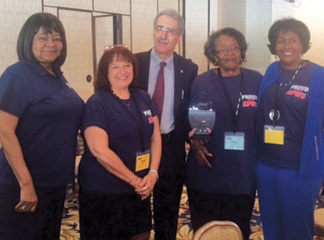 President Dimondstein's opening remarks on the status of contract negotiations and the values of postal banking motivated retirees to commit to getting more involved in the APWU contract campaign.
Our general session panelists were: Rich Fiesta, executive director of the Alliance for Retired Americans; Jessica Klement, legislative director the National Active and Retired Federal Employees Association (NARFE); Steve Regenstreif, Democratic National Committee Senior Council; Jioni Palmer, Social Security Administration; Mathew MacIssac, Office of Personnel Management, and Michael Dombo of Winvale, the company providing credit and identity theft monitoring to victims of the first cyber security breach at the Office of Personnel Management.
A special thank you is extended to Ron Watson, Director of Retired Members at the National Association of Letter Carriers (NALC), for sharing information about retiree activities.
Participants had an opportunity to attend at least two workshops each day.
Carol Boulware, member of the Detroit District Area Local Retiree Chapter, said, "As a result of taking the computer class, I now feel comfortable to both write letters to my state and congressional representatives and email them, on short notice, prior to their vote on issues that impact me, my family, and that will strengthen the middle class."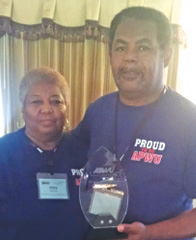 President Dimondstein, Vice President Debby Szeredy, and Secretary-Treasurer Liz Powell joined me in presenting awards named after our two distinguished former retiree directors for outstanding work to protect retiree benefits and workers' rights. Velma Chism, president, Ohio State Retirees, received the John R. Smith Award. Thomas Brown, president, Virginia State Retirees, received the Douglas C. Holbrook Award.
---
No COLA Triggers Some Medicare Increases
As we predicted, there will be no cost-of-living adjustment (COLA) increase for Social Security recipients and federal retirees in 2016. As a result, if you are a federal retiree enrolled in Medicare Part B and you make your premium payments by any method other than through your Social Security check, or if you are a new enrollee to Medicare benefits, your premium payment for 2016 will be $120.70.
The increase could have been much higher, however. President Barack Obama and congressional leaders softened the blow by setting a cap in the two-year budget deal, which prevented the increase from escalating to $159.30. In addition, for the next five years, there will also be a $3 surcharge for those affected by the premium increase.
Will retirees who are currently paying their Medicare Part B premiums through Social Security be required to pay more in 2016?
No. The "hold harmless" provision of the Social Security Act prevents the government from reducing payments to recipients who pay their Medicare Part B premiums from their Social Security checks simply because there was no COLA increase by preventing a hike in the premiums for Medicare Part B. The premiums will remain at $104.90 for those covered by the "hold harmless" provision.
Stay in touch with your union
Subscribe to receive important information from your union.