Thank You for Your Service
(This article first appeared in the November-December 2017 issue of the American Postal Worker magazine)
By Retirees Director Nancy Olumekor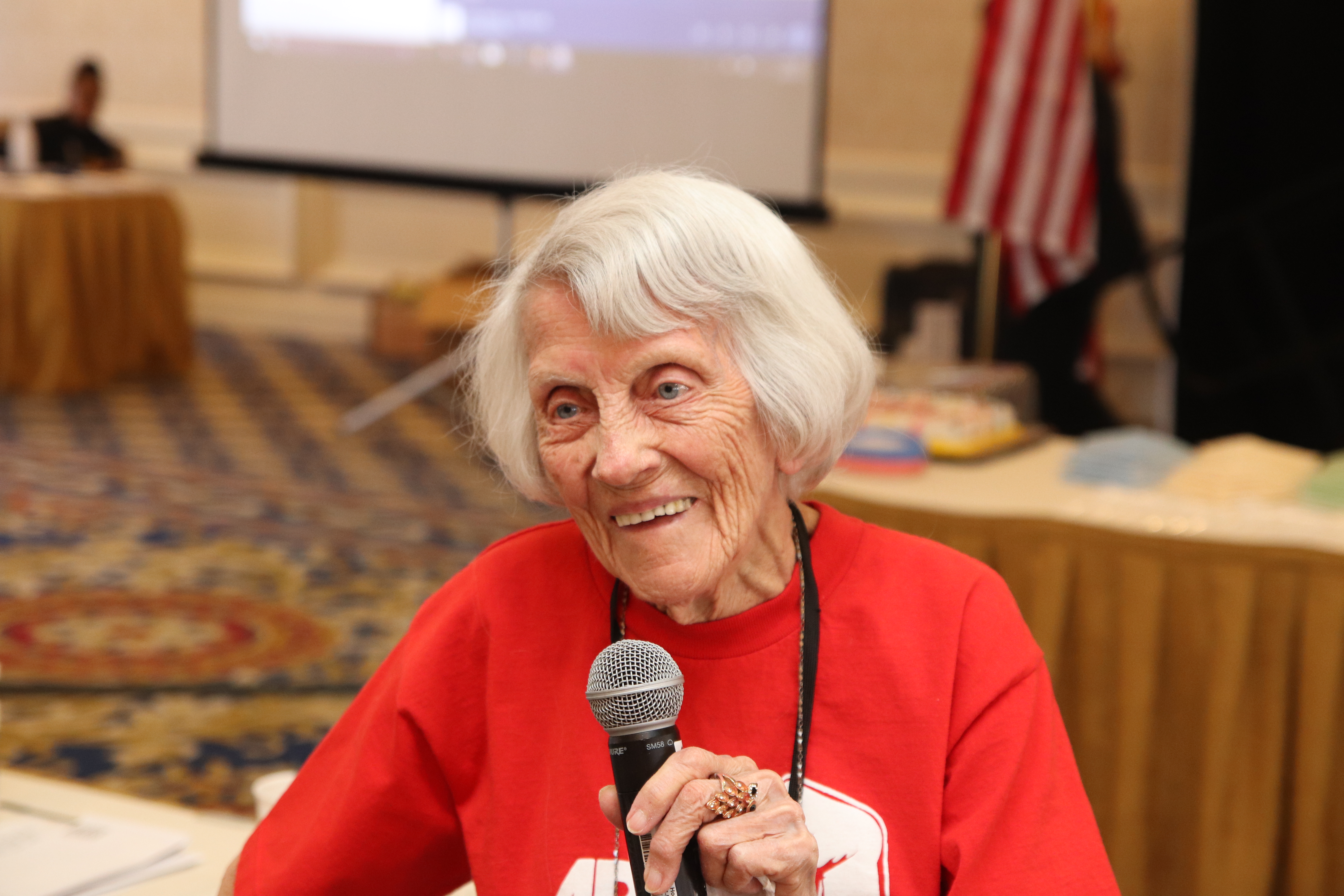 As we enter the season of gratitude, I want to first thank all of our veterans and active military personnel for their service. In recognition of Veterans' Day, I share the story of one of our APWU retiree members, a Navy veteran who has truly been Aging Out Loud.
Elizabeth "Betsy" Huff served as a Navy WAVE (Women Accepted for Volunteer Emergency Service). On Dec 7, 1941, Betsy decided if they allowed women in the armed forces, she was going to join the Navy.She had a medical background as a pre-nursing student, worked as a Red Cross nursing assistant and worked more than two and a half years in a hospital – which more than qualified her.In 1945, she answered the call for WAVES medical corpsmen in Hawaii and spent most of the year serving at the Pearl Harbor Dental Clinic, taking care of many marines who had come back from Iwo Jima, until the war ended. Then in May 1946, Betsy married Alfred Huff, a marine, and started their family.
Betsy spent 34 years working as a clerk in various positions at a post office in Dayton, Ohio, retiring in 1986. She credits John R. Smith with helping to form the APWU Retirees Chapter in Dayton, Ohio, where she is one of the founding members. She is still a member and has enjoyed an active retirement.
She joined us this year at the APWU Retirees Educational Conference in Las Vegas, where we honored her by presenting her with a cake for her 95th birthday. Betsy's long term goal is to live as a retiree longer than she worked – and will achieve that goal in 2020.
---
Organizing for Action
The legislative battles we face in 2018 can only be won if we work collectively. Retirees still need to organize and take action!
Organizing a local retiree chapter begins by contacting the Retiree Department. The local chapter must function consistently with the national and chapter constitutions, and with the cooperation of the local.
The local, at its general membership meeting, should pass a motion to form a Retiree Chapter to be chartered by the national union. In accordance with Article 16.2(i) of the APWU National constitution, "Ten (10) or more Retiree Department members residing within a local or area local geographical jurisdiction may form a Local Retiree Chapter." The members formalize the Retiree Chapter with assistance from the Retiree Department.
---
2018 Cost of Living Adjustment (COLA)
"With two months (August and September) to go in the cost-of-living countdown, federal, military and Social Security retirees are eagerly awaiting their 2018 cost-of-living adjustment," wrote Mike Causey, senior correspondent for Federal News Radio, on Aug. 14. "Last month, the COLA — based on the nationwide rise in living costs measured by the Labor Department's Bureau of Labor Statistics — stood at 1.6 percent, but the Consumer Price Index for the month of July dipped slightly, dropping the estimate to 1.52 percent. The actual amount of the 2018 COLA will be based on the average of the indices of July, August, and September, in comparison with the previous year's third quarter average."
The 2018 cost-of-living adjustment for those receiving Social Security and Supplemental Security Income (SSI) was released on Oct. 13. It will be two percent.
Stay in touch with your union
Subscribe to receive important information from your union.