Join the USPS Fairness Act Nationwide Phone Action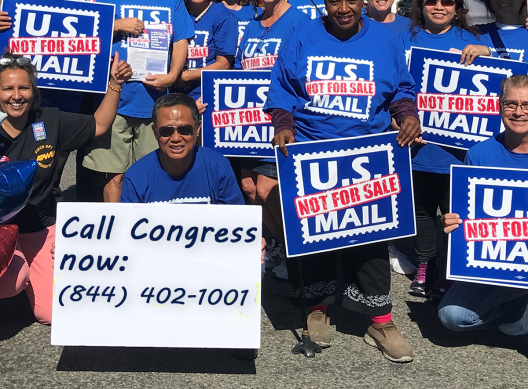 Today: Stand up for our public Postal Service. It's time to protect America's most cherished institution. We are telling our elected representatives to pass the USPS Fairness Act.
In 2006, Congress saddled our public Postal Service with an unfair and unsustainable burden of pre-funding retiree health care benefits 75 years into the future! The USPS Fairness Act will start to put that right by removing the unfair burden. 
Call your member of Congress by dialing (844) 402-1001 right now
If you are viewing this on a phone or you can call from this device, just click the "call now" button.
About the Western Region
The Western Region Coordinator is responsible for the union's activities in Alaska, Arizona, California, Colorado, Hawaii, Idaho, Montana, Nevada, New Mexico, Oregon, Utah, Washington, Wyoming, and American Samoa, Guam and Saipan.
Is the Postal Service Sick?
(This article first appeared in the November/December 2018 issue of the American Postal Worker magazine)
33,400+ employees are absent daily claims management, triggering their Attendance Control Employee Availability (AC/EA) crackdown while they impose so-called "Dynamic Scheduling."
Leave rules in CBA Article 10 and the Employee & Labor Relations Manual (ELM) Chapter 510 have existed for 40 years. ACEA can't change those rules. ELM 665.11 requires you to be regular in attendance. However, ELM 511.1 requires management to administer leave on an equitable basis for all employees considering a) the needs of the service b) the welfare of the individual employee.