Pete Seeger: Activist, Master Songsmith
Even if you've never been to a labor rally, a civil rights demonstration, or a folk music concert, chances are you've been touched by the music of Pete Seeger.
For more than six decades, this gifted performer has traveled the world spreading messages of unionism, social justice, and peace. Many of the songs Seeger wrote or popularized are now part of the American cultural fabric, and along the way he has inspired countless labor, anti-war, civil rights, and environmental activists, as well as a diverse range of musicians.
Born in New York City on May 3, 1919, Seeger is the son of classical music teachers whose ancestors included Mayflower descendants and abolitionists. Though educated in private schools, his family was not wealthy. To earn spending money, Seeger sold a student newspaper he produced, and sometimes shined shoes.
Folk Music Awakening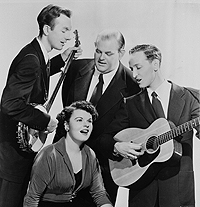 Seeger's future as a folk musician was forged in 1936, when his father took him to an Appalachian music festival in Asheville, NC. On that trip he first heard five-string banjo playing and enjoyed performances by many artists he came to admire, including "Aunt Molly Jackson."As Seeger recalled in a 2006 interview, "She sang, 'I am a union woman/just as brave as I can be/I do not like the bosses/and the bosses don't like me.' And that was how I began to hear folk music."
He got a scholarship to Harvard, where he studied sociology and waited on tables in one of the school's dining halls. In 1938, the college sophomore dropped out and began to travel, mainly by rail or by hitchhiking. He immersed himself in all forms of American folk music: bluegrass, gospel, blues, ballads, sea shanties, etc.
A naturally gifted "split tenor," he learned to play the five-string banjo, and became acquainted with folk legends Woody Guthrie (This Land Is Your Land, This Land Is My Land)and musicologist Alan Lomax. Lomax hired Seeger for the Library of Congress's Archive of American Folk Song, where the young musician's job involved visiting migrant camps, churches, union halls, and rural communities.
In 1940, Seeger, Guthrie, and fellow musicians Millard Lampell and Lee Hays formed the Almanac Singers, which at times included folk legends Burl Ives, Leadbelly, and blues greats Sonny Terry and Brownie McGhee.
Union Songsmith
The band popularized now-classic union anthems such as Solidarity Forever, We Shall Not Be Moved, and Which Side Are You On? They also wrote and recorded The Talking Union Blues,an organizing song for the Congress of Industrial Organizations (CIO). Enjoying considerable commercial success, the group also performed pacifist tunes in the run-up the war.
Seeger was drafted in 1942, and tried to become an Air Force mechanic. But FBI scrutiny of the Almanac Singers' politics — including Seeger's association with the Communist Party — resulted in his spending much of the war picking up cigarette butts at an Army base in Mississippi. He was eventually assigned to a unit entertaining the troops stationed in the Pacific.
In 1947, Seeger and Lee Hayes formed a new group, the Weavers, with Ronnie Gilbert and Fred Hellerman. The band found great success with chart-topping hits such as Kisses Sweeter Than Wine, On Top of Old Smoky, and Wimoweh (The Lion Sleeps Tonight). The Weavers made Leadbelly's Goodnight Irene a No. 1 hit in 1949.
Civil Rights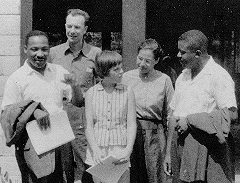 Despite its mainstream success, the group was condemned by conservatives. Threats led concert promoters to cancel Weavers performances, often at the last minute. In one famous incident on Aug. 27, 1949, near Peekskill, NY, a mob wielding baseball bats — probably organized by the Ku Klux Klan — tore down the stage. Thirteen people who had planned to attend the concert were seriously injured.
The Weavers rescheduled the performance — a benefit for the Civil Rights Congress that also featured Paul Robeson (the noted African-American singer, scholar, actor and activist) — for a week later. On Sept. 4, with security provided by union volunteers, 20,000 people enjoyed the show. Following the event, however, a police roadblock enabled a mob to assault people departing in their cars. The car carrying Seeger and his family was attacked by rock throwers.
Amid what was becoming an ugly political climate during the early days of the Cold War, Seeger and Hays penned If I Had a Hammer, an optimistic paean to the power of individual activism. Written in 1949, it became a Top 10 hit in 1962 for Peter, Paul, and Mary, and it soon became a standard for civil rights marches and Catholic folk masses.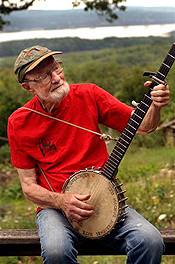 Blacklisted
Despite their popularity, the Weavers were among the victims of Sen. Joe McCarthy (R-WI) and his anti-Communist crusade."Blacklisted" by the government, radio stations, and major record labels, the group disbanded in 1953. Seeger supported his family with solo-act appearances on the college circuit and at folk-music gatherings.
In 1955, Seeger was forced to appear before the House Un-American Activities Committee. He confounded the panel by refusing to answer its questions based on his First Amendment rights of freedom of speech and association — not by invoking his Fifth Amendment right against self-incrimination, as other reluctant witnesses had done.
The Weavers reunited to play a sold-out Christmas Eve concert at Carnegie Hall in 1955 and played together intermittently until 1958. Seeger, however, began to devote more time to the civil rights movement.
In 1957,while visiting the Highlander Folk School, a training center for union and civil rights leaders in rural Tennessee, Seeger performed a version of a late 19th-Century gospel tune that had been adopted by union coal miners and tobacco workers: His rendition of "We Shall Overcome" prompted Dr. Martin Luther King Jr. to remark, "That song really sticks with you, doesn't it?"
The song soon became an anthem for the American civil rights movement, and it has since been adopted by freedom struggles around the world.
Other Signature Tunes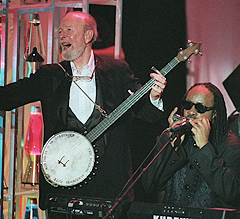 Seeger is perhaps best known for two other songs he wrote in the 1950s. Borrowing a few lyrics from a Russian folk tune, he composedWhere Have All the Flowers Gone?, which became a pop-chart success for the Kingston Trio. In Turn! Turn! Turn! (To Everything There Is a Season), he adapted verses from the Bible(Ecclesiastes 3:1-8). It became a number one hit for the Byrds, in 1965.
These and other Seeger songs fueled a folk-music revival in the mid-1950s that lasted through much of the 1960s. By the late 1960s, however, Seeger became uncomfortable with the cultural radicalism and the generational divisions it fostered. In the 1970s he shifted his focus to environmental issues, most notably an effort to clean up the Hudson River that features his 107-foot sloop Clearwater, a floating classroom, laboratory, and stage.
Despite the shift, Seeger has remained a familiar presence at folk-music gatherings and anti-war and labor rallies. Today, at 88, the author of more than 100 songs, countless stories, and time-honored manuals on banjo- and guitar-playing is still healthy and active. Although his voice has developed a quaver, he can still be coaxed to take the stage to tell stories or lead a sing-along.
Stay in touch with your union
Subscribe to receive important information from your union.