In World War II, Black Women's Army Unit Delivered
WACs Cleared Massive Backlog, Sped Mail to Soldiers
In 1945, an Army battalion of African-American women played an important role in U.S. efforts to defeat Nazi forces in Europe — even though many Americans questioned their right to serve. By processing a massive backlog of mail destined for the troops, these soldiers improved the morale of America's fighting force.
Women had performed military support operations as civilians during the Civil War, the Spanish-American War, and the first World War, but during World War II, a manpower shortage prompted Congress to authorize the Army, Navy and Coast Guard to recruit and enlist women to perform military duties other than nursing, for the first time in the nation's history.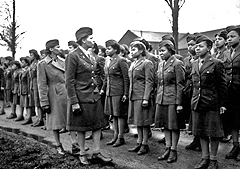 Though President Franklin Roosevelt had issued an executive order in 1941 banning racial discrimination in civilian defense industries, the military remained segregated and dominated by male leadership. But at the urging of First Lady Eleanor Roosevelt and Mary McLeod Bethune, founder of the National Council of Negro Women, African-American women were admitted to serve as officers and enlisted personnel in the newly formed Women's Army Corps.
Following the historic landing at Normandy on June 6, 1944, the rapid advance of Allied forces across Western Europe posed many logistical problems, not the least of which was processing mail from home for delivery to millions of soldiers whose locations changed frequently. Undelivered mail to the troops piled up, and the generals noted the lack of communication from home was hurting morale.
Fortunately, the 6888th Central Postal Battalion had finished basic training and were ready to be deployed. Most of the unit's members were eager to become the first African-American women to serve in U.S. military operations overseas.
In February 1945, 855 members of the 6888th boarded a military transport ship for their first assignment, in Birmingham, England. During the two-week trans-Atlantic voyage, their ship was threatened by Nazi submarines, and a German V-1 rocket exploded near the dock upon their arrival. "It was frightening," Alyce Dixon recalled at a February 2009 ceremony honoring their service at Arlington National Cemetery. "We didn't know what we had gotten ourselves into," she told The Washington Post.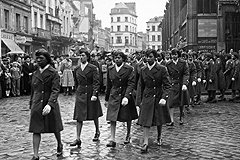 Waiting for the 6888th were three airplane hangars full of a growing backlog of 7 million undelivered letters, much of which had been mailed more than a year before.
"Some people didn't understand about addressing letters, so they would just write a letter to their son or husband addressed 'To Junior, U.S. Army,' or 'To Sam, Army,'" noted Mary Crawford Ragland. "It was our job to figure out who those soldiers were and get them their mail."
To get the job done, the women created information cards on the latest deployments of all American Army and Navy personnel, as well as Red Cross and other civilian workers in Europe. "The troops were moving so fast the mail couldn't keep up with them," said Mary Ebo. The women of the 6888th "had a job that had to be done. It wasn't a pretty job [but] we felt we were doing our part."
The unit was given six months to clear the backlog by working around-the-clock in eight-hour shifts, seven days a week, they managed to process approximately 65,000 pieces of mail per work session and finished the job in just three months. They were subsequently redeployed to France to keep the mail moving from Paris to soldiers on the front.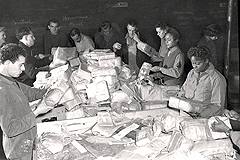 Like other African-American soldiers at the time, the women of the 6888th battalion were subjected to a segregated military. They slept in separate barracks and ate in separate mess halls.
"We served our country proudly, and we did a good job," said Ragland. In France, she noted, "people were so positive. They asked, 'Why does your country treat you so badly when black people have contributed so much to the country and the culture?' It was embarrassing having them ask that."
"When we came back, though, there were no parades, there were no speeches, there was no recognition. They gave us our papers discharging us and sent us on our way."
(Very) Late Recognition
Sixty-four years later, dozens of military officials, veterans, active-duty soldiers, as well as friends and family of the unit's veterans came together at the Arlington ceremony in an attempt to right that wrong.
The women of the 6888th were finally "honored as heroes who had performed masterfully in the face of adversity, much like the Tuskegee Airmen and Buffalo Soldiers, black servicemen who had since been recognized for their service and sacrifice," The Washington Post reported.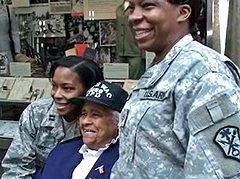 "These were strong women who faced prejudice in the United States but still managed to complete their mission, putting their country ahead of their own trials," Col. David Griffith said. "They did not have the luxury of working with automated equipment to help them organize, sort and distribute the millions of letters and packages that had accumulated in airplane hangars and other places in Europe.
"For the morale of soldiers in war time, only one thing counts more than somewhere to sleep or something to eat," he added. "That one thing is mail from home — holiday greetings, photographs, regular letters, and packages filled with items from relatives and friends."
The former soldiers were presented with an American flag and a certificate signed by Army Chief of Staff Gen. George W. Casey and Army Secretary Pete Geren stating, "Your legacy is today's Army…. Their efforts are a direct reflection of your service, and the United States Army and a grateful nation thank you."
But perhaps 6888th veteran Gladys Schuster Carter said it best. Speaking to the younger women at the ceremony, she said, "You are standing on our shoulders, but let me tell you what our pride is: seeing you young women who have succeeded since us."
Stay in touch with your union
Subscribe to receive important information from your union.