Hatch Act Warning
Information on this page involves partisan election-related activity and it should not be downloaded, posted or sent to others using U.S. Postal Service equipment, nor should it be read, downloaded, posted or sent to others while on the clock or while on USPS property. In accordance with the Hatch Act, postal and federal employees are restricted from engaging in partisan political activity while on the clock or on postal or federal property.
The APWU is challenging the restrictions on postal workers' use of social media for political activity, but employees should adhere to these guidelines in the meantime.

In 2022, voters will decide which party will control the House and the Senate in the 118th Congress. In turn, voters will decide what becomes a priority in the new congress. Issues like our public Postal Service, workers' rights, infrastructure, climate, and voting rights are on the line. That's why it's important that we know which seats are on the line and make sure we elect leaders who will fight for us and our issues. Stay tuned as we update this page with important election information.
Upcoming Elections
There are 435 U.S. House seats, 34 U.S. Senate seats, and 39 gubernatorial seats up for election. As elections unfold, we'll continue to update this page with key races and crucial election dates.
In the meantime, click here to find out about important dates throughout the 2022 congressional election cycle, including primary dates. 
Be sure to click on your state to see which offices are on the ballot and who is running.
 
Vote By Mail 101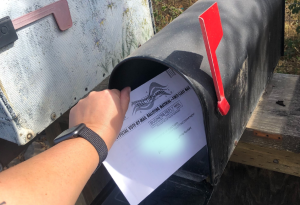 We know that voting by mail will always be a key part of making sure working people's voices are heard. APWU is proud to defend the integrity of Vote-by-Mail and continue the Postal Service's more than 150-year tradition of enabling the American people to safely and securely vote by mail.
Previous Campaigns
CONTINUING THE MOMENTUM IN THE GEORGIA RUNOFF ELECTIONS
Members of the American Postal Workers Union understood what was at stake this election. Amid attacks on the Postal Service, active voter suppression and a pandemic, we voted to defend our public Postal Service and our union jobs – but these were not the only issues on some of our minds when we voted. Many of us voted for a solution to the ongoing pandemic, expanded health care, action on climate change, justice for all regardless of race, gender, or sexual orientation, and religion. Together, we elected Joe Biden and Kamala Harris as the next President and Vice President of the United States of America.
Though we celebrate this victory, our fight is far from over. We must maintain our momentum and turn our efforts towards Georgia. There, not one but two consequential Senate races are still underway. Since no candidate in either race was able to earn more than a 50 percent majority of votes in the November election, special runoff elections on January 5 will now decide the winner. One race is between the incumbent David Perdue (R) and challenger Jon Ossoff (D). The other is between the incumbent Kelly Loeffler (R) and challenger Rev. Dr. Raphael Warnock (D).