APWU's Greater Los Angeles Area Local Joins UTLA Strike
Union Overwhelmingly Approved Contract on Tuesday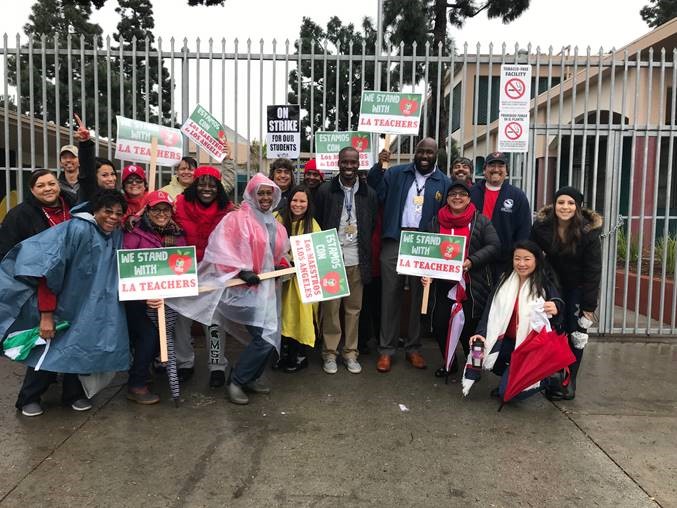 APWU's Greater Los Angeles Area Local joined United Teachers Los Angeles (UTLA) on the picket line last week, offering support to fellow public-sector workers during the week-long strike that ended Tuesday morning.
"It's important to support each other in solidarity," said Greater Los Angeles Area Local President Dominic Davis. "Teachers were out in full force, side by side with us in solidarity, during the Stop Staples campaign. We're so closely aligned with them, with both of us going through negotiations [now], so it was important to show our support."
"It says a lot about the teachers union and its members that they risked their own benefits as they stood up for their students," said Davis. "They care enough about the students they serve that they put themselves on the line for better conditions."
Victorious Strikers Return to Work Wednesday
On Tuesday, UTLA President Alex Caputo-Pearl and Los Angeles Unified School District Superintendent Austin Beutner announced a tentative agreement at Los Angeles City Hall, which UTLA members overwhelmingly approved later that day.
Teachers were back in school for a normal school day on Wednesday with a new contract that the union described as a "paradigm shift." Virtually all of the union's demands were met with no concessions made by teachers, except for pay lost while out of school on the picket lines.
The new contract includes:
A six percent pay raise with no contingencies,
A nurse in every school five days a week,
Hard caps on class size that will reduce class sizes immediately in 2019-20, with more improvements every year after,
Clear pathway to cap charters,
Counselor-student ratios of 1:500,
Commitment to reduce standardized testing by 50 percent,
A librarian in every secondary school five days a week,
Investment in community schools,
Hard caps on special education caseloads and release time for testing,
Important wins for adult education, early education, and substitute educators,
Progress on demands to end random searches, expand green space, and support immigrant families.
UTLA's fight against increased charter funding parallels our own fight against privatization of the Postal Service, as workers demanded the preservation of education as a public service for all people, not just a privileged few. The cap on charter funding is a major win not only for UTLA's public school employees, but for all advocates of the preservation of public services.
Stay in touch with your union
Subscribe to receive important information from your union.