Interest Arbitration: APWU rebuts management's economics and MVS proposals
Today at Interest Arbitration, the APWU rebutted some of management's economic arguments, including their controversial claim that postal workers are overpaid for the skills they employ. We also responded to management's regressive proposals for Motor Vehicle Service.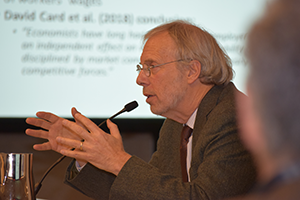 APWU's witness in the morning was Dr. Robert Pollin, Department of Economics and Political Economy Research Institute (PERI) University of Massachusetts-Amherst. Dr. Pollin presented his paper on Wage Rates, Employment Conditions and Living Standards for APWU Membership.
Pollin's evidence focused on the section of the Postal Reorganization Act (PRA) of 1970, which governs pay and benefits. He pointed out that the PRA created a duty for USPS to be a good employer, as well as maintaining wage increases that are comparable with the private sector. 
Pollin pointed out serious flaws in the data that management relied on to calculate its comparison with private sector wages. He presented statistics which showed that, across the board, APWU members deserve a solid and substantial wage increase and are not overpaid and under-skilled, as management had argued.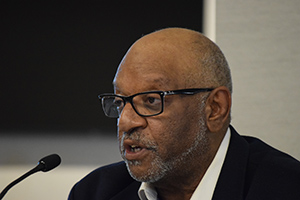 In the afternoon, Motor Vehicle Service Director Michael Foster addressed some of the management's regressive attacks on Postal Vehicle Service (PVS) operators' work. 
He emphasized the damage that would be done to the service under management proposals. Under those proposals, PVS operators would no longer bid on specific schedules when bidding on duty assignments. They would also substantially modify duty assignments on a weekly basis without reposting the duty assignment for bidding and remove the protections of Article 8.1, which defines a work schedule as containing 8 hours within 9 hours, or Article 8.2.D, which provides that employees enjoy consecutive off days.
"If granted, the Postal Service's proposals will send PVS into a death spiral. Qualified drivers will not work under those conditions, and the Postal Service will then use its inability to attract drivers as an excuse to contract out PVS work to more expensive HCR contractors. This will harm the reliability of the Postal Service and future of PVS," said Director Foster.
 
Stay in touch with your union
Subscribe to receive important information from your union.