H.R. 3579: A Win-Win Bill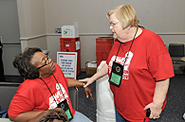 (This article appeared in the September/October 2008 issue of The American Postal Worker magazine.)
Judy Beard, Director
The APWU continues to pursue the re-employment of postal retirees in new retail outlets. One of the crowning achievements of the 2006 contract negotiations was the agreement under which Postal Service retirees would be eligible for part-time positions in retail outlets.
However, this agreement was never implemented because federal law stipulates that when retiree annuitants return to work for a federal agency, their annuity must be offset by the salary they earn. The Office of Personnel Management (OPM) may grant waivers of this requirement, and if a waiver is granted, there is no offset. This exception should be the rule.
H.R. 3579, a bill currently before the House of Representatives, would allow federal agencies to reemploy federal employees on an "as-needed" basis. The APWU supports this legislation. In seeking its passage, we would like to see an amendment that explicitly mentions retired postal workers.
In testimony this spring to the Subcommittee on Federal Work Force, Postal Service, and the District of Columbia, APWU President William Burrus said.
"The workforce of the future will, of necessity, include a blend of the young and old, with each category contributing their special skills to the task of growing our economy. The old model of restricting the contributions of an earlier generation is outdated and limits our national potential. The federal government should be an example of the workforce of tomorrow."
APWU members (both retirees and active employees) must join the fight for this legislation. Please write your congressional representatives and ask them to support H.R. 3579.
APWU Retirees Rock
Walter T. Kenney Sr. retired from the Postal Service 23 years ago but has never let up. He loves people, and his energy and leadership skills have made a big difference in many lives.
Walter was hired by the Richmond, VA, Post Office in 1954. A Distribution Clerk, he served as a local officer in the United Federation of Postal Clerks (UFPC) in the 1960s. He was elected National Vice President, Washington, DC Region, Clerk Craft, in 1970, and held that position he retired from the APWU in 1980.
Walter unsuccessfully ran for a seat on the Richmond City Council in 1968 and 1970. On the third try, in 1977, he won, and served the city for the next 17 years, including the last four, from 1990 until 1994, as mayor.
Although retired from the Postal Service, the union, and city government, Walter is currently serving as president of the Highland Park Community Development Corporation. And he is working on the campaign of another presidential hopeful. "I am actively campaigning for the election of Sen. Barack Obama," he said. True to his lifelong form, Walter offers this special advice to fellow retirees:
"Stay very active. Show your love to your family and friends." Thank you, Walter, for your lifelong commitment to working men and women.
Stay in touch with your union
Subscribe to receive important information from your union.