PSEs' Hardships and Indignities
Nine Postal Support Employees presented emotional testimony on March 10 before a panel of arbitrators – who will decide the terms of the union's next contract – describing the struggles they face and the indignities they experience.
PSE PANEL 1
Donica Collie, Clerk, Washington, DC
Jody Harper, Maintenance, Washington, DC (recently converted to career)
Richard Ogoh, Motor Vehicle, Southern MD Lakeram Singh, Clerk, Washington, DC
PSE PANEL 2
Jalisa Jorden, Maintenance, Dallas, TX 
Carl Ross, Clerk, New York City 
Erin Wolfson, Clerk , Torrington, CT
Sandra Huckstep, MVS, Merrifield, VA
PSEs from the Clerk, Maintenance and Motor Vehicle Crafts recounted compelling stories about the difficulties they encounter paying for basic necessities and explained the devastating effect low wages have had on every aspect of their lives.
They also depicted the negative effect of erratic work schedules on their family life. Most of the PSEs testified that they work overtime routinely – sometimes more than 70 hours per week – but others yearn for more hours.
Several said they receive no advance notice of their schedule and/or work assignment; others said they receive text messages from their supervisors on their private cell phones telling them where to report.In two panels, PSEs discussed the indignity of being treated as second-class citizens in the workplace, with several saying they are called "the help," "flunky" and other demeaning names.
Because they do not receive uniform allowances, the PSEs who work the window and drive trucks said they wear hand-me-downs they got from their co-workers.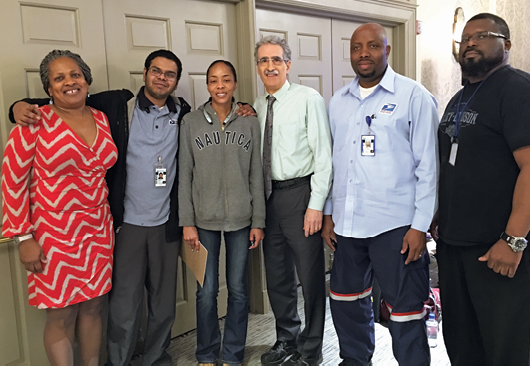 The difficult working conditions may sound familiar to many senior employees, who remember how tough their lives were when they were Part-Time Flexibles, but there is an important distinction, which the PSEs pointed out: As non-career employees, they live under the constant threat of losing their job at the end of every 360-day appointment. They also are subjected to lower pay and fewer benefits than Part-Time Flexibles enjoy. Of the PSEs that testified, only one has been able to take a vacation since their appointments began.
As the second panel concluded, participants were asked how the reality of their jobs compared to the expectations they had before they were hired. Each one expressed disappointment, explaining that a job at the post office conjured an image of decent pay, benefits and the opportunity for advancement.
Jalisa Jorden, whose parents and grandparents were also postal workers, said she always wanted to become a postal employee. Her parents were able to provide a good life for her sister and her, she said, but as a PSE, she has trouble making ends meet.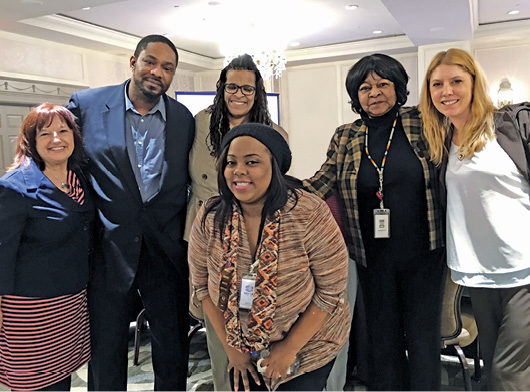 "I salute the PSEs for their willingness to come forward and give honest and forthright testimony," said APWU President Mark Dimondstein. "They shared their real-life stories in an effort to improve conditions for themselves and all workers. I'm confident that their testimony will have a positive impact on the arbitration panel.
"The most important witnesses throughout the proceedings have been the workers themselves – the PSEs and the career employees who testified in the first round of hearings," he said. Seventeen career employees testified in six separate panels about their working conditions on Feb. 18 and 19.
Stay in touch with your union
Subscribe to receive important information from your union.