Questions Often Asked About Retirement Checks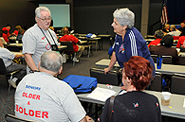 (This article appeared in the July/August 2003 issue of The American Postal Worker magazine)
John R. Smith, Director
It's not unusual for the Retirees Department to get phone calls concerning what to do about late, lost or stolen annuity checks. The following summarizes our typical answers to a few of the frequently asked questions the department receives.
Q. What should I do if my annuity check is late or lost?
A. If you don't receive your payment on the first business day of the month, wait five business days (the mail may have been delayed). If your check still hasn't arrived after five working days, write to: Office of Personnel Management, Attn: Check Loss, PO Box 7815, Washington, DC 20044.
Tell OPM that you haven't received the check, the date you expected to receive it, and provide your retirement claim (CSA) number. At the end of your letter, print your name and include your signature. Include your claim number, printed name and signature.
If you know for certain that you lost the check or that it was stolen, write to the above address right away, telling them which check was lost or stolen.
To report a late, lost or stolen payment by phone, call 202-606-0500. If the call is made by someone other than the annuitant (the person to whom the check is made out), that person must be prepared to provide the annuitant's social security number and date of birth, as well as the claim number and the date and amount of the payment.
If you have direct deposit, you must also get a bank official to sign your letter, confirming that the check was not deposited to your account.
Q. Does it matter how long I wait before I cash my annuity check?
A. Yes. Government checks must be cashed within 12 months of the date on which the check was issued. You may have noticed that every checks includes the legend "void after one year" printed near the bottom of the check.
Q. How do I report a change in my address?
A. You can report an address change in writing or by phone. To notify OPM in writing, send your correspondence to: Office of Personnel Management, Change of Address Section, PO Box 440, Boyers PA 16017.
Although you can get a change of address form from OPM, you may simply use a postcard or letter. If you do not use the OPM form, you must provide your name, date of birth, CSA number, and your new and old addresses. Be sure to include the zip codes and clearly indicate which address is the old one and which is the new one. And whichever you use - the form, a postcard or a letter - be sure to sign it.
To give OPM your new address by telephone, call 202-606-0500, Monday through Friday (except federal holidays) between the hours of 7:30 a.m. and 5 p.m. (Eastern Standard Time). The annuitant or person calling on behalf of the annuitant must be prepared to give all the information noted above.
Make sure OPM has your new address as soon as possible; otherwise your next check could be delayed.
Stay in touch with your union
Subscribe to receive important information from your union.