The Struggle Continues in Alabama as 1,100 Coal Miners Remain on Strike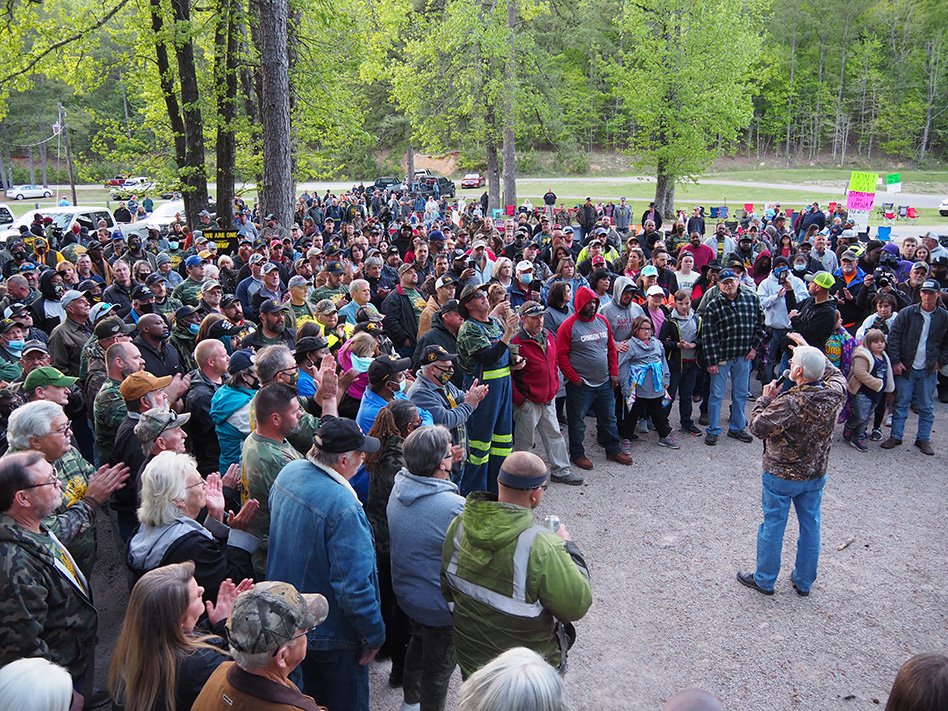 In the May-June 2021 issue of the American Postal Worker, we reported on the Warrior Met Coal Miners' strike in Alabama, which began on April 1 following the United Mine Workers of America (UMWA) filing unfair labor practices charges with the NLRB. During negotiations both before and during the strike, Warrior Met refused to offer good wages and benefits, instead demanding drastic concessions from the workers. The miners vowed to stay on the picket line as long as it takes to win a good contract. 
Warrior Met's refusal to bargain in good faith insults the workers who sacrificed for the company when it faced bankruptcy in 2015. That year, the miners accepted a bankruptcy contract with $6/hour pay cuts, longer work weeks, and the loss of overtime compensation, all while upper management received bonuses. Now, with Warrior Met in stronger financial health (the company had a net income of $300 million in 2019) and executives receiving millions of dollars in compensation, the company still refuses to offer its workers a fair contract.
"Our members are the reason Warrior Met even exists today," UMWA International President Cecil E. Roberts said. "But instead of rewarding the sacrifices and work of the miners, Warrior Met is seeking even further sacrifices from them, while demonstrating perhaps some of the worst labor-management relations we've seen in this industry since the days of the company town and company store.
"Our members at Warrior Met have the full backing of the entire International Union and working families across Alabama, the United States and the world," Roberts continued. "Despite Warrior Met's apparent appetite for this conflict, we will prevail."
"This is yet another example of Wall Street financiers getting rich on the backs of workers," said APWU President Mark Dimondstein. "The members of the UMWA stood by us during our Stop Staples fight and recently during our U.S. Mail Not For Sale and Save the Post Office campaigns. Let's stand up and support them during their struggle against corporate greed." 
As miners remain on the picket lines, they have received an outpouring of support from fellow union members and the community. The UMWA holds solidarity rallies each week for workers. Community groups across Alabama and the country are holding events to raise money for the miners' strike fund. On May 22, local radio show The Valley Labor Report held the Alabama Strike Fest, a music festival fundraiser at a local union hall in Brookwood, AL. 
APWU members are encouraged to contribute to the UMWA strike fund. All donation checks are to be made out to the UMWA 2021 Strike Aid Fund, and mailed to:
UMWA 2021 Strike Aid Fund 
P.O. Box 513
Dumfries, VA 22026
Stay in touch with your union
Subscribe to receive important information from your union.