Legislative and Political Director Judy Beard Reflects on 2021
(This article first appeared in the November/December issue of the American Postal Worker magazine)
As the pandemic and attacks on the rights of working people continue, 2021, like 2020, has proven to be an unprecedented year. As always, postal workers continue to serve the American people and fight for legislation that benefits workers, families and communities across the country.
With the start of the 117th Congress, our union laid out legislative priorities, ranging from postal reform to voting rights. Though much of the legislation we support has stalled, we continue to pressure elected officials to do their jobs, keep their promises and pass pro-worker, pro-Postal Service legislation.
Even in the face of considerable legislative roadblocks we were still able to secure some crucial victories. In the last 12 months, APWU members successfully fought for the confirmation of three new members to the Postal Board of Governors, COVID-related paid time off to care for themselves and for their loved ones, and improvements in the workers compensation program.
Legislative Conference
As postal workers, we know the importance of continuing to lobby our legislators to strengthen the people's Postal Service and the rights of the working class. That's why, on September 26, APWU members across the country virtually attended the 3rd Biennial Legislative Conference, titled "Keeping Up the Pressure, Fighting for Justice!"
Designed to empower members with the knowledge and tools needed in our collective legislative fights ahead, conference workshops covered lobbying strategies, postal service operations, the 2021 and 2022 elections, and digital organizing.
Following workshops, conference participants reconvened for a panel answering the question "what does worker solidarity look like?" Panelists included Dominik Whitehead of the NAACP, Shanna Peeks with the United Mine Workers of America, President of the Massachusetts AFL-CIO Steven Tolman, and Susan Harley of Public Citizen.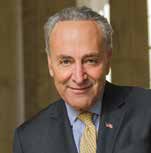 As the conference wound to a close, we had the privilege of welcoming Senate Majority Leader Chuck Schumer (D-NY) and voting rights champion Stacey Abrams as our keynote speakers. During his speech, Sen. Schumer told members that "[the] work you do… saves people's lives. I've never seen that more than in the last year where so many postal workers risked their lives to make sure that the mail went through…Whether it's delivering life sustaining items, the medications and other things people need or advancing our democracy through the mail... What you do is essential every day."
During her remarks, Abrams also expressed her support for postal workers and the critical role we have played amid the pandemic. "As COVID-19 threatened every facet of our society, you served a critical role in keeping the gears of our democratic process turning to help guarantee a free, fair, and safe election," Abrams said. "Despite pushback, you stepped up and processed a record number of mail in ballots – whether they were from our cities, suburbs or rural America, or from our service members overseas."
We thank both of these remarkable leaders for their support of postal workers and their dedication to the preservation of democracy.
By convening members of Congress, community and labor leaders, and workers together, APWU's 2021 Legislative Conference provided our union with the opportunity to delve deeper into our legislative battles, explore strategies for securing substantive legislative victories and prepare for 2022 elections.
Stay in touch with your union
Subscribe to receive important information from your union.