10 Roads Express forced to reinstate union organizer after successful strike action
Drivers for USPS contractor, 10 Roads Express, in Peoria, IL, are celebrating the reinstatement of a union leader, who was fired just hours after they won their vote to form a union. 
In an arbitration decision dated April 11, 2023, Arbitrator Jeffrey Jacobs found that 10 Road Express truck driver Donna Gramm was wrongfully terminated by the company. The company employs drivers to perform mail transportation services for the Postal Service.
Gramm was terminated the day after workers' overwhelming union election victory in a 53-10 "APWU Yes" vote, in what workers believed to be a clear case of retaliation for her union activity and the  successful organizing campaign.
However, drivers from the Peoria terminal took immediate strike action, shutting down the company's operations at the location. Within hours of the walk-out, the company had agreed to workers' demands for due process for Gramm. The case went to arbitration.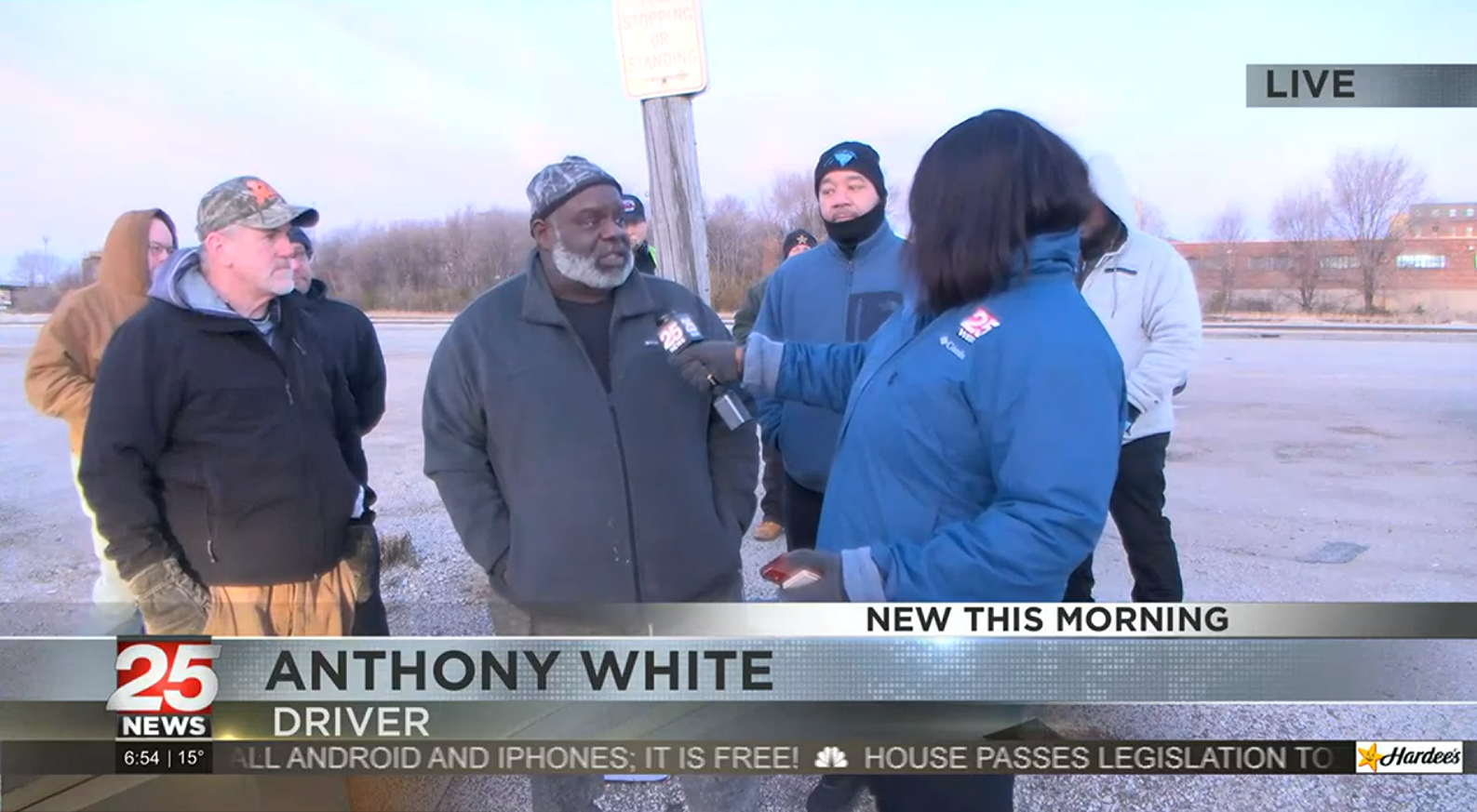 In his award, Arbitrator Jacobs found that 10 Roads Express was wrong to treat Gramm as an "at-will," non-union employee and that they had fired Gramm without just cause . It found that she had not violated the policy they cited for her dismissal. Also, the arbitrator stated that they failed to show evidence of "a fair and objective investigation," required by the "just cause" protections of a union contract. 
He ordered that the company reinstate Gramm to her former position within 10 business days, with full back pay, and contractual benefits. 
Donna Gramm said: "I am totally elated. [Support Services Division Director] Arrion [Brown], [Lead Field Organizer] Richard [Shelley], the organizers, and my union brothers and sisters really stuck by my side. Even though the company told us that I would never get my job back, we have prevailed.
"My suggestion to anyone at 10 Roads Express who doesn't already have a union is to get onboard. You don't want to be an at-will employee because that way you don't make decisions for yourself. The best decision you can make is to start a union and get on board with APWU."
 "I congratulate 10 Roads Express workers in Peoria and across the country. This victory truly belongs to them," said APWU President, Mark Dimondstein. "The message is clear: If you want better wages and benefits, respect and dignity, and protection against unfair management decisions, you need a union."
"By exercising their right to form a union and by acting together, Donna and her fellow workers took control of their own destiny and successfully fought back. There is no power greater than working people fighting together for justice."
"We are proud to announce the news of Donna's reinstatement," said APWU Support Services Division Director, Arrion Brown. "The Support Services Division and APWU organizing staff have worked tirelessly with 10 Roads Express workers since they first reached out to us and told us that they were organizing a union. We hope that more contracted mail workers will reach out because a union is the only real protection they can get."
The drivers are now bargaining for their first contact, with dates set for April 24th and 25th in Peoria.
Find out how you can form a union at 10 Roads Express
Stay in touch with your union
Subscribe to receive important information from your union.