All-Craft Conference: Postal Clerks Are "One family fighting together for all!"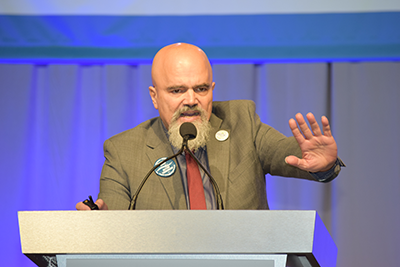 On Wednesday October 30, the Clerk Craft held its General Session after days of in-depth training at the All-Craft Conference.
During the training workshops, clerks received training on topics such as Lead Clerks, TACs, Large Office Issues, Retail and Small Office Issues (Function 4), PSE Issues and Discipline (Article 16).
Much of the morning on October 30 was spent honoring several retiring Clerk Craft National Business Agents, welcoming newly-elected leaders, and setting the goals ahead. "The Clerk Craft provided a well-rounded selection of training to the delegates to take home and continue the fight. What happened in Vegas did not stay in Vegas," said Assistant Director Lynn Pallas-Barber.
"I'm pleasantly surprised by the impressive turnout at the ACC this year," said Assistant Director-elect Sam Lisenbe. "The classes have gone really well. The educational classes will really help out the members on the work room floor."
The General Session had a theme of passing the torch and moving forward with strength and direction.
"I'm proud of how the week has gone in the Clerk Craft division," said Clerk Craft Director Clint Burelson. "I look forward to our members taking the lessons from this conference and bringing them back to the work room floor."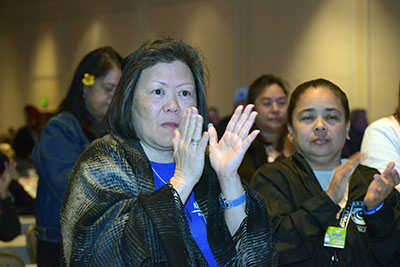 At the General Session, several NBAs honored their outgoing brothers and sisters before a roll-call of newly elected NBAs and Regional Coordinators. In his report opening the session, Director Burelson illuminated the pay disparities that exist in the APWU and the appalling three-tiered system.
Assistant Clerk Craft Director and Director-elect Lamont Brooks detailed his plans for the future, asking the membership to hold him accountable. He also outlined his goals, including the elimination of three-tier wages; contract enforcement; addressing hostile and unsafe workplaces; weekly work hour guarantees for all clerks; improved communication with members; assisting and supporting clerk NBAs and Local Officers and Stewards; and improving Clerk Division National Officer visibility on the work room floor.
"The meeting went excellent. I see a new, reinvigorated Clerk Craft division. We're going to be more progressive and bold," Brooks said. "One family fighting together for all!"
Stay in touch with your union
Subscribe to receive important information from your union.